A Hidden Nine in the Shadow of Lossiemouth
On a remarkable spring day in May of 2019, my son Jake and I made a spur of the moment decision to attempt to get in nine more holes of golf – on a Saturday that had already included 18 at Fraserburgh and Cullen. Our new friend, George Clark, eyed us skeptically when I mentioned this while saying our goodbyes in the Cullen Links car park. "I haven't heard much about Covesea. It's getting a bit late," he said, as we loaded our clubs for the forty-minute drive to Lossiemouth. Playing another nine holes that day proved to be one of the best decisions that we made on the entire trip.
The entry drive to Covesea Links, a wonderful nine-hole course about two miles south of the well-known Moray Golf Club (Lossiemouth), is quintessentially Scottish. The single-track gravel road off the B9040 winds unassumingly for about half a mile, before you crest a ridge and the course appears almost magically before your eyes. It is also somewhat of a rare thing for Scotland – a relatively new course that only opened for play in 2010.
The sun was already low in the western sky as we pulled in next to the unassuming caravan from which the proprietors Angela and Andy Burnett operate their course. Angela came out to greet us, the only golfers going out at 7 pm. It was the beginning of golden hour and everything was illuminated in an almost surreal glow.
"Have you had your dinner yet?" she asked kindly.
"No, we are going to stop in Lossiemouth after the round," I replied.
"Oh, I better book you a table. 8:30 or 9 is usually the last service around here. Let me call now," she said.
Before we even got our clubs out of the car boot, Angela had secured us a reservation for 8:45 at a local restaurant.  Once again, the small kindnesses that we were afforded by the Scottish people throughout this trip were genuinely heartwarming. Imagine a golf course operator in the United States calling to book reservations for two golfers who had just driven up out of nowhere – it would be unheard of. "You'll be able to get around in 90 minutes at the most," said our host.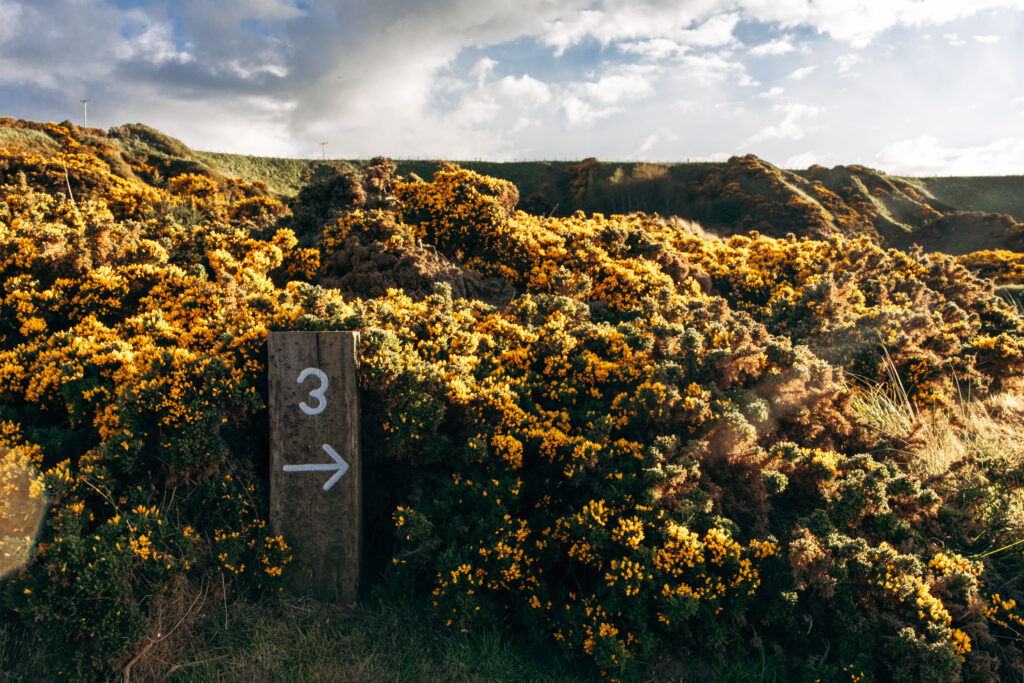 Covesea Links is easily walkable, with tees brilliantly placed only a few paces from each previous green – like the majority of great Scottish courses. Our green fee was £10. The Burnetts have now reluctantly increased this to £15. Angela explains the recent increase:
"This was our first price rise in 10 years. It has always been a vision of Andy's to have a "pay and play" quality golf course at a price that means it is inclusive to all. A place where a scratch golfer can play along with a family member or friend who are beginners, with no pressure."
These are admirable goals and the true essence of Scottish golf. I confess that I love everything about Covesea Links.
The course was, and continues to be, a labor of love for Andy Burnett. He has a background in golf course maintenance and construction, having previously built the widely admired Dragon's Tooth Golf Club (now known much less colorfully as Woodlands Glencoe) at Ballachulish. When the Burnett's acquired the seaside property in 2004, it had been used mainly as sheep grazing land. Andy built the course over a period of six years, with some assistance from his construction employees at times, and still serves as the main greenkeeper for the links. Angela explains:
"Andy attends mainly to Covesea Links and Miles, our youngest son, is now also a greenkeeper and works here and at another course that Greenstaff Services (Burnett's company) have been hired to do greenkeeping and specialist works. We do have other family members who help out when needed, including our eldest son Andy, Jr and Cousin Joe. The majority of the work at Covesea Links is done by Andy – hand watering till 1 am, out hand cutting at 6:30 am in the height of the golf season."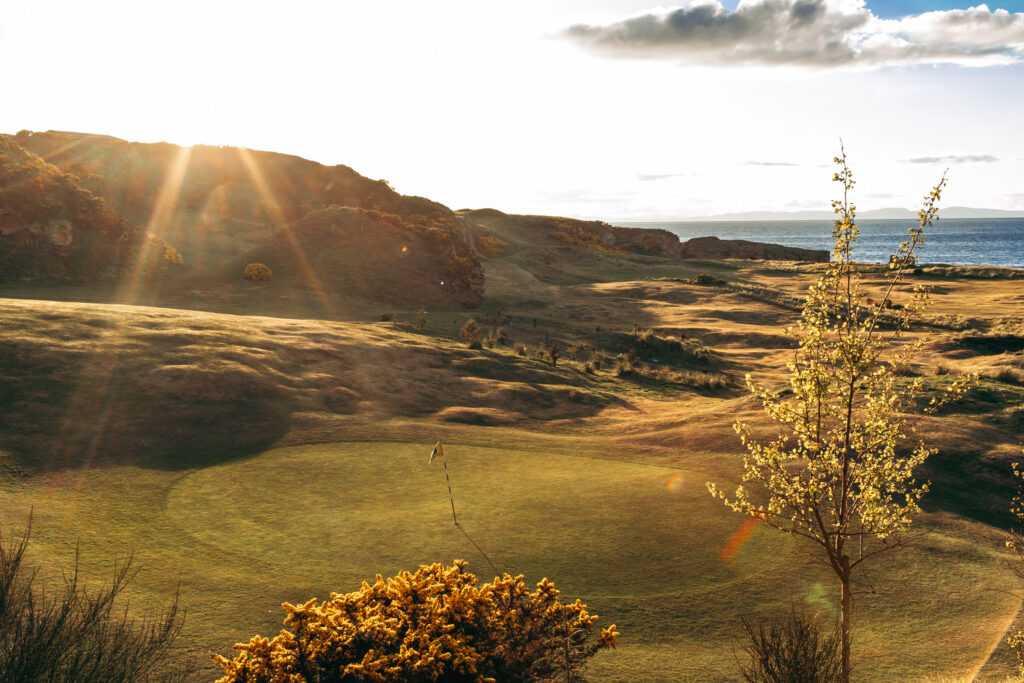 The par 31 course played wonderfully firm and fast, as a seaside links should. In addition to Burnett's obvious greenkeeping skills, his routing is brilliant. Greens are sited just where they should be – in a natural punchbowl, on top of a dune or hidden behind a giant red rock "sea stack" like those at Cullen. Tees are perfectly placed. The views from the 6th and 9th tees at Covesea rank with any course in Scotland – or in the world for that matter.
In a lifetime of playing golf – much of it in Scotland – the ethereal golden quality of the sunlight illuminating the gorse-covered hills on this late May afternoon surpassed anything I have ever seen. It is sometimes careless to make definitive statements like this, but I feel it is warranted in this case.  We walked around the entire 9 holes making comments like "Wow. Look at that. Unbelievable." It was a "golden hour" to exceed even your wildest Scottish dreams.
I love all the holes at Covesea, but four are standouts for me:
The 402-yard par four 4th hole, with its tee next to the Moray Firth. The fairway looked like the firth itself in the late afternoon sun, with each mound and undulation highlighted by the surreal light.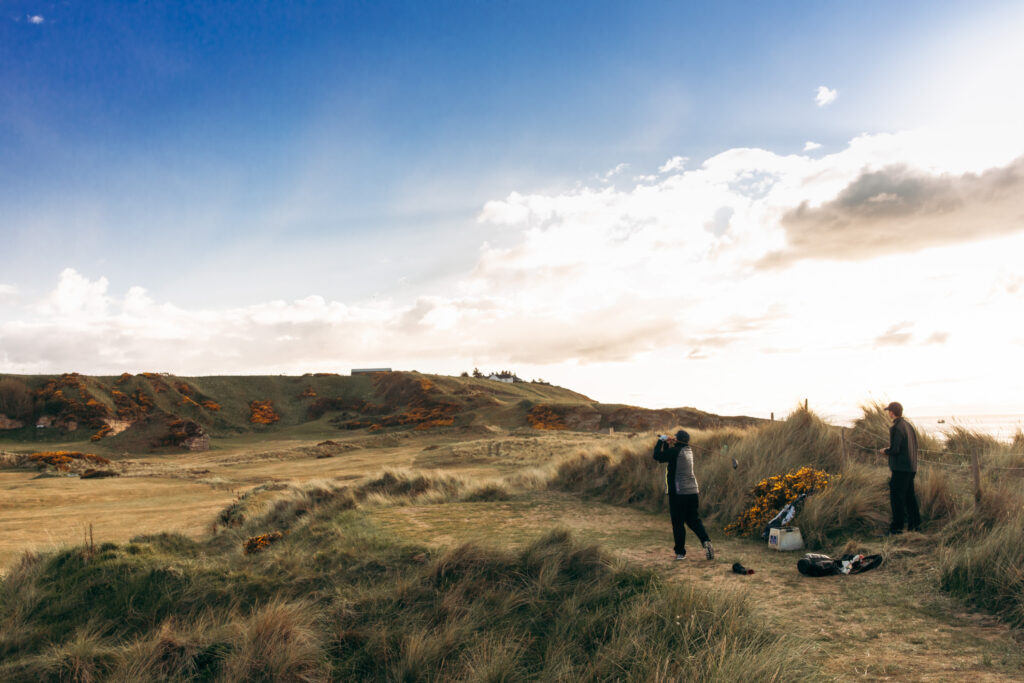 The wee 90-yard par three 5th plays straight up hill two a green cut into the top of a dune. The view from this green, with the sea and the Covesea Skerries Lighthouse in the distance, almost does not seem real.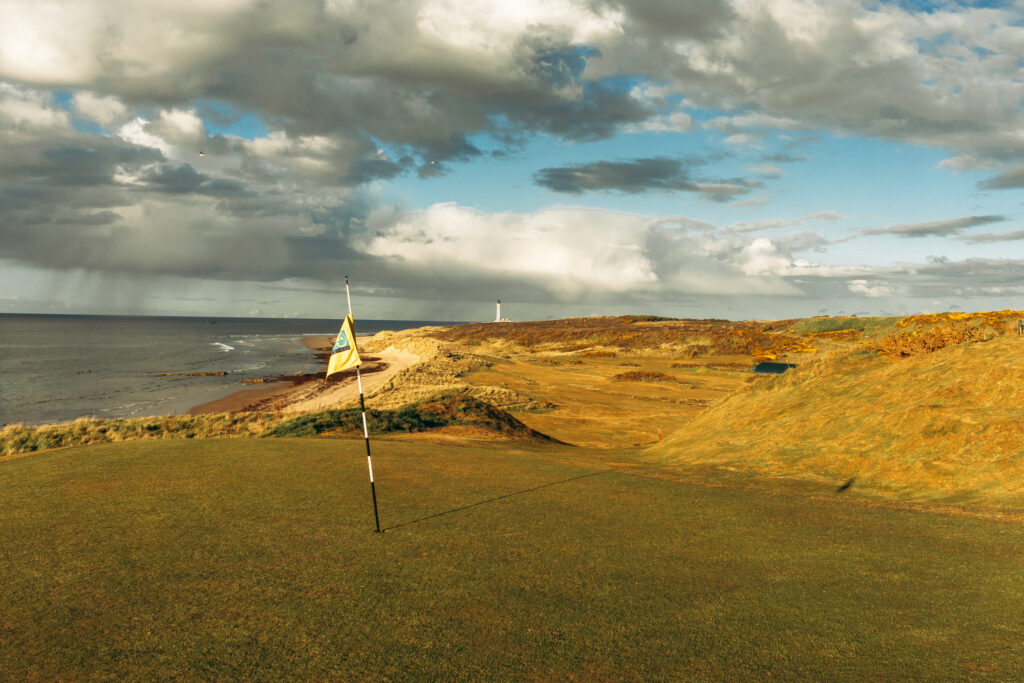 The completely blind 135-yard par three 7th, which plays over a massive red rock to a green situated perfectly at the base of the hills beyond. It is reminiscent of the great 13th at Cullen. I will repeat this statement throughout this series, but I maintain there is nothing more fun in golf than the anticipation of the results of a blind shot.
Finally, another tiny jewel, the 104-yard par three 9th. The tee is benched into the side of the gorse-covered cliff and plays to green with a backdrop of the entire majestic links and the firth beyond. It is one of the best views you will ever have on a golf course.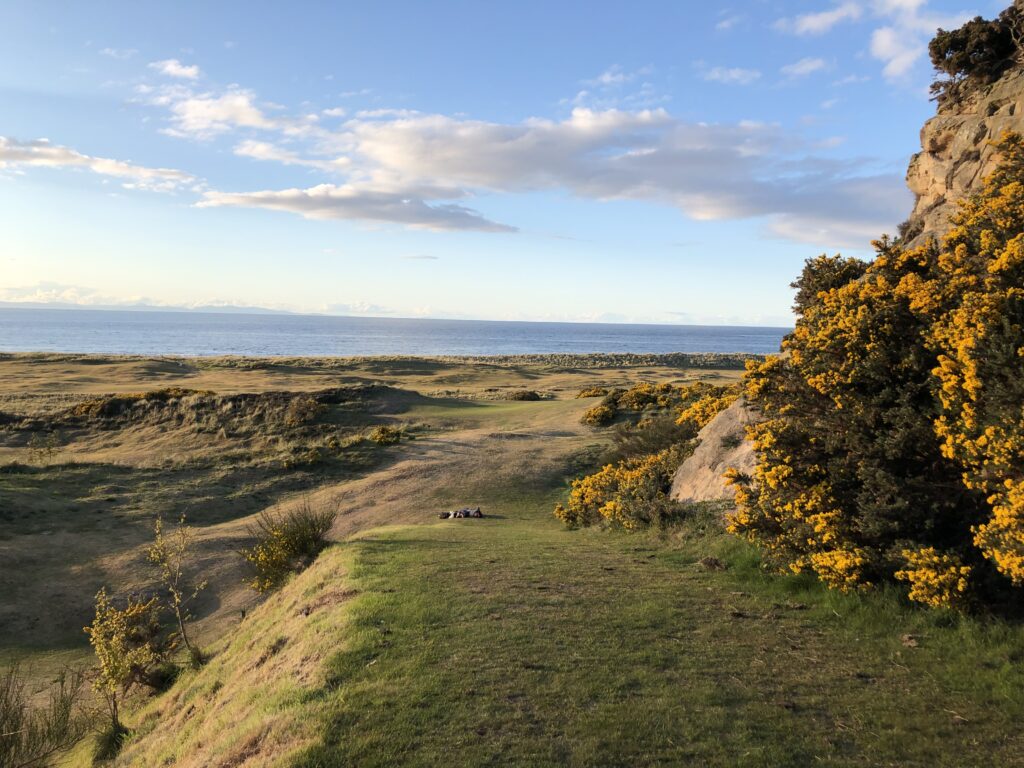 As the only golfers out, we went around the course quickly – despite our camera phones getting an especially thorough workout. We finished at 8:30, just as Angela had predicted. The brilliant golden light was starting to fade as she came out to say goodbye. "Thank you for coming by. I hope you enjoyed our wee course," she said as we loaded up the car to speed off to our dinner reservation.  A bowl of Cullen Skink, and perhaps a pint of Tennent's, was going to be most welcome after walking forty-five holes of golf.
I recently followed up with Angela Burnett to ask what she enjoyed the most about running a golf course:
"The people we have met from all over the world who are still in touch, and support us from afar. Being in this environment every day and being a husband and wife team, some would say we are living the dream."
Covesea Links is one of the most beautiful places I have ever been. It would be a dream for many of us to work each day in such a wondrous environment. Thank goodness there are people like Angela and Andy Burnett who share their dream of affordable links golf with anyone who has £15 and 90 minutes to spare.
I suggest trying to time your visit for around 7 pm on a clear day in May.  Be prepared to keep your phone out for nine holes.
RECOMMENDATIONS
We stopped briefly to have a quick look at Hopeman GC while we were in the area. It looks lovely and I regret that we did not have time to play there on this visit. I plan to visit there in May.  My Dad and I played Moray (Lossiemouth) once on a trip in the 1990's and I remember it fondly. It is worth playing if you are staying in the area.
We somehow made our 8:45 dinner reservation at The Salt Cellar on Clifton Road in Lossiemouth.  The Cullen Skink was excellent, and the restaurant had a very nice casual menu of burgers, seafood and steak. The service was great. This is a nice town in which to spend a few nights in Moray. There is enough good, affordable golf in the area to justify a two or three night stay.