Rosehearty and Hopeman in the Underrated Northeast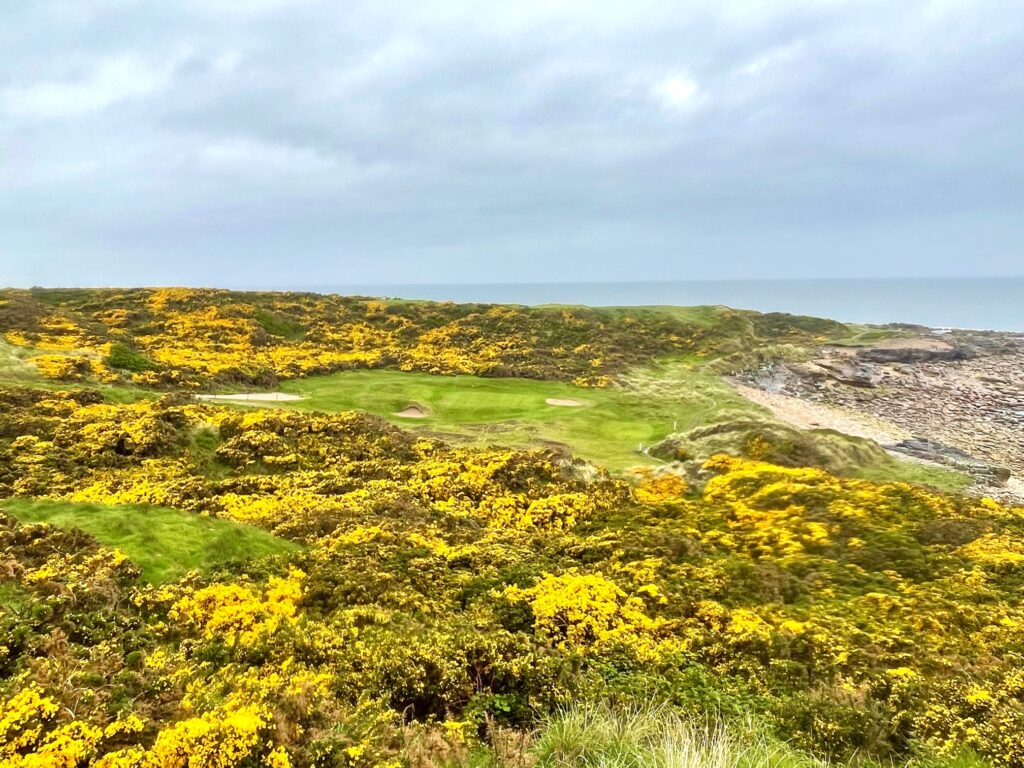 I noticed the three elderly Scottish gentlemen marching rapidly down the 1st fairway at Rosehearty Golf Club as I putted out on the 2nd green. The Scots, especially pensioners, play golf with a haste that is singular. I thought to myself, "They will catch me by the 6th hole." They played through on the 5th tee.
The men proceeded quickly as I sat down and waived them through to the tee.
"Hiya! I see you brought the lovely weather with you today," said one of the men.
It was cold – and getting colder- and raining steadily. They each appeared to be at least 80 years old, but looked as if they could play golf all day. Striking their drives quickly, with backswings shorter than the late Doug Sanders, they started striding off with a rousing "Cheers!" However, the last man couldn't find his tee. The group looked for it for what seemed like 5 minutes. "Sorry, that's his favorite wooden tee," said one of them with a laugh. The frugality made me smile. I felt a small bit of jealousy of three friends playing their usual daily game at a place as joyously fun as Rosehearty Golf Club.

Scotland is filled with hidden surprises like wee 9 hole Rosehearty. For the dear tariff of £8, you can play a links that has some of the most brilliantly simple use of natural duneland that I've ever seen. There are a couple of pedestrian holes – the short 105 yard par 3 second mainly serves to get you to the ocean and the 3rd tee. Even the weaker holes at Rosehearty are fun – you are walking on beautifully resilient turf in full view of the North Sea. If that doesn't excite you, then I can't help you.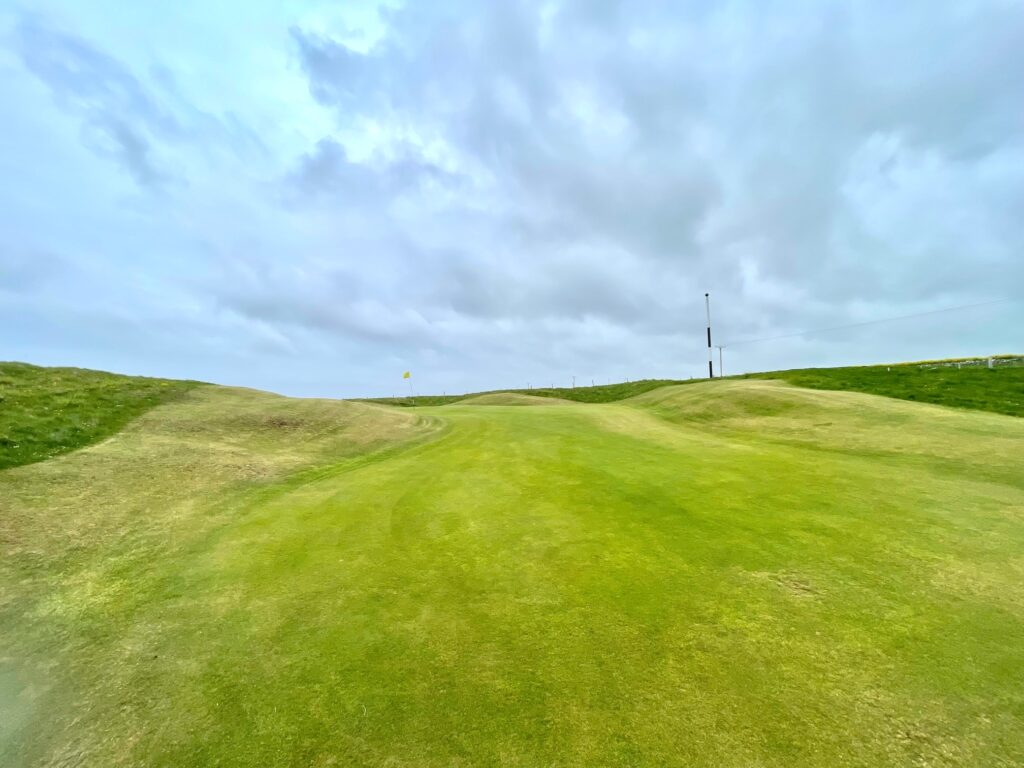 Rosehearty has six very good to great holes. The 3rd through the 7th actually made me laugh quietly to myself a few times. The greens are sited in natural dells, protected by dunes, benched into dunes, or totally exposed on top of dunes. The 350 yard par four 4th hole earned a place today in my top 100 holes in Scotland, which will be in the epilogue of my next book. It is perfection, with the approach played blindly over a sandhill to a green overlooking the endless sea. It is a spot that you may never want to leave. With an eclectic and thrilling mixture of par threes and fours, Rosehearty has a par of 31
After my round, I spoke to the three gentleman again in the modest prefabricated clubhouse. We discussed my thoughts on their course. "Some folks call it a small, wee course, but I love it," one of them said. I told them I loved it too.
It is rarity now for me to play two courses in a day. Stopping in lovely Cullen – for the requisite lunch of Cullen Skink – I paid my respects to Cullen Golf Club as I drove under the old railway viaduct that transects town. I needed to travel a bit further north to visit Hopeman – a place I had wanted to see for a long time. The weather was getting progressively worse when I entered the tidy clubhouse. "You must be Jim," said the friendly young barman by way of greeting. "We were taking bets on whether you'd show up today. It's a shame about the weather. It's been nice for a fortnight at least."

I explained to the assembled crowd of two that I'd wanted to get up to play Hopeman for many years and that I still planned on going out. "Aye. I'll have you some coffee when you come in. You'll need it." The course was deserted. Most Scots have far more common sense than to play golf in the near-freezing rain.

Hopeman did not disappoint. Scotland is a stunning country of vibrant yellow, green, purple and blue. Spring is an assault on the senses in the best possible way. The gorse at Hopeman is a blinding Open Championship yellow, even on a cold, grey afternoon. This may actually be the one true king of gorse-enclosed courses. In a brilliant design move, the whins only serve to frame the holes. The ubiquitously devious bushes are rarely in play. Everything about Hopeman is pure fun. For some unknown reason, in spite of the weather, I even played well. I did not lose a single golf ball. Golf course architects should take note.
The 12th hole is all-world. It is a severely downhill, 120 yard par three played from the edge of a cliff to a seaside green, all surrounded by an ocean of gorse. All alone in the world, I stood silently for several minutes to take in the glorious scene. I thought for a minute about my late son Jordan, who I'd last spoken to a year ago today. He would have loved this hole. In my mind I could hear him saying, "Wow, dad, look at this."

I'll have more to write on this later, but the 10th through 18th at Hopeman stands up to any stretch of holes I've ever played. It has everything that I love about Scottish golf. Soaked completely through, despite a gore-tex rain suit, I entered the warmth of the bar to say my farewells. The young barman and the other gentleman – now with a pint of Tennent's – were both still there, as if awaiting my verdict.

"How'd you get on out there?"
"I am frozen," I said. My new friends laughed.
"Aye. It's a shame about the weather. I hope you'll come back."
"You can count it."
Even after all these years of coming to Scotland, I am still discovering places like Hopeman and Rosehearty. In a world of seemingly endless violence and despair, that is somehow reassuring.