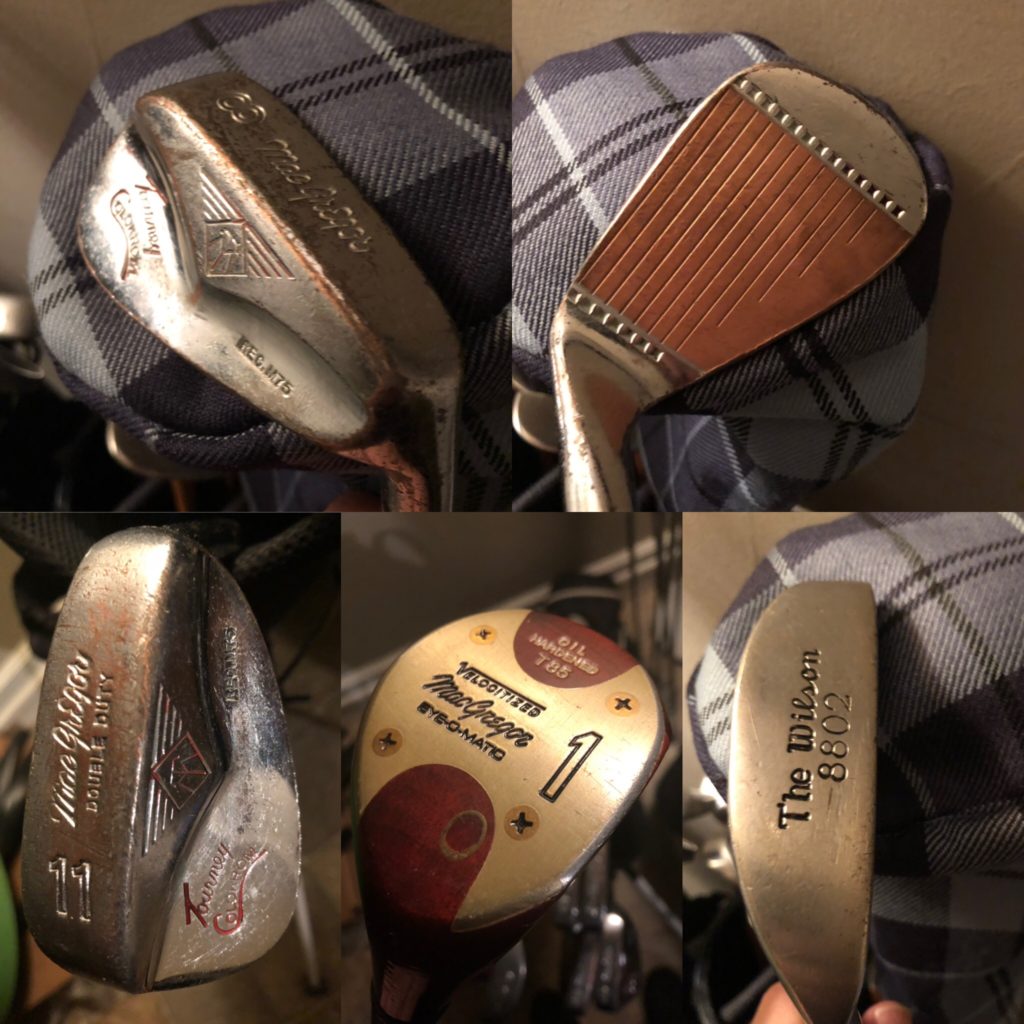 We just sit around talking about the old times

She says that when she feels like crying

She starts laughing about

Glory days

Glory Days, Bruce Springsteen
I recently went through the exercise of trying to build a set of the clubs I used for my Senior season on the 1985 Hartselle High School golf team. I was surprised at how cheaply and quickly I was able to find a set of MacGregor Tourney Colorkrom irons, MacGregor Eye-O-Matic woods and a Wilson 8802 putter on Ebay. Along with the start of high school golf season in Alabama (which as tradition dictates is in the worst possible weather for golf) and the recent controversy surrounding the Kentucky High School Athletic Association's decision to change the Boys State Championship from 5 players counting 4 scores to 4 players only, I became somewhat nostalgic for my favorite high school sport.
My introduction to high school golf occurred as a 7th grader at Tarrant Middle School in Tarrant City, Alabama, a working class suburb on the north side of Birmingham. I was drafted to be the 4th man on the inaugural THS boys golf team, along with 3 seniors at the high school. Looking back on it now, I realize they were likely the only 3 guys in the entire high school that even played golf. I was obsessed with golf, having played the game since I was old enough to walk Roebuck Municipal with my Dad. The season consisted of 9 hole matches against various area high schools and then Sectionals, in which all schools in the area competed over 18 holes to make the State tournament in Gulf Shores. That Spring it became a dream of mine to be on a team to make State, which seemed to be a magical and unattainable goal at Tarrant.
Tarrant City, Alabama would never be mistaken as a hotbed for golf. Over the next 5 seasons, we would often struggle to find 3 other players to field a team for matches. 5 players were allowed (counting the 4 best scores), but I was usually happy when we had 4 show up. A few times I remember going around the school and pulling a friend out of class and letting them borrow a set of clubs, so we'd have enough to play the match that afternoon. We even played one season with a girl on the boys team. We would play the "over the mountain" teams, like Mountain Brook and Vestavia, whose 5th man was a better player than our #1 guy. (or girl) Needless to say, we got destroyed in most of those matches. However, I wouldn't trade those experiences for anything. The multitude of stories that I have from those years still make me laugh. Kids from a lower middle class suburb got to play the Mountain Brook Club, Birmingham Country Club and even the newly opened Shoal Creek Golf Club, designed by none other than my hero Jack Nicklaus!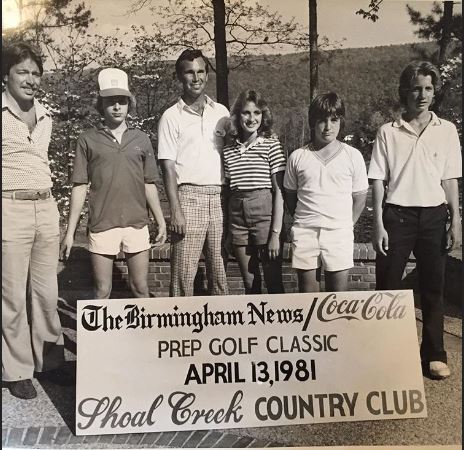 One of my favorite stories from my THS golf years involves the legendary Hubert Green, who sadly passed away in 2018. At the 1981 Shoal Creek Prep Classic, each group played the par 3 8th hole with Hubert. At that time, he was one of the top players on the PGA Tour and had won the 1977 US Open and had finished 2nd in the 1978 Masters, missing a 3 foot putt on the 72nd hole to force a playoff with Gary Player. When we reached the 8th tee, Hubert was going to hit first before our threesome. If we were able to hit a shot inside of his, we got a sleeve of Titleist balatas, which to a kid from Tarrant City was akin to receiving a gold nugget.
I don't know what possessed me, but as Hubert was about to start his pre-shot routine, I asked, "What club is this for you, Mr. Green?" He turned to look at me as if I'd just killed somebody with a sand wedge. He replied, "I'll tell you what club it is son." He immediately dropped 4 balls by the one he already had on the tee. He told his caddie, "Hand me my 4, 5, 6 and 7." Then, in quick succession he struck all five balls, starting with his 8 iron. He said, "It's an 8", as he hit it to about 10 feet. He grabs another club and says, "It's a 7," and hits another one within 20 feet. This routine continues quickly to the 4 iron, which he chokes way down on and hits a 30 yard high cut to within the same 20 foot circle, while ending with, "It's also a 4 iron. You're up." My mishit 6 iron did at least get airborne as it landed in the water short of the green. No sleeve of the precious Titleist balatas for me, but I did get one of the most valuable golf lessons of my life.
Towards the end of my Junior year at THS, my Dad had the opportunity for a new job with Hartselle schools about 75 miles north of Birmingham. He told me he wanted to accept the position, but if I wanted to finish my Senior year and graduate at Tarrant, he would turn it down. When he mentioned that HHS had the chance to have a good golf team next year if they could "just find one more good player", I said, "Let's go." My impossible dream of making State suddenly had new life. The move to a new town and school was surprisingly easy. I met 3 of the golf team guys that summer at a local 9 hole course called Indian Hills, located between Hartselle and Decatur. My Dad dropped me off at the course and I met my future teammates for the first time in what passed for the pro shop at IHGC. We walked 36 holes together that day, immediately deciding that we were going to qualify for State. They were 3 Seniors like me and all good high school golfers. They mentioned that there were a couple of younger kids at the school that could potentially be a helpful to the team as a 5th man.
We had a great season that Spring. We won most of our 9 hole matches and finished 2nd in the one 18 hole tournament we played in. (I was paired with a future PGA Tour player in that tournament, but that's story for another entire blog.) As Sectionals approached, we were ready. I distinctly remember how well all 5 of us were striking it in the practice round the day before the event. In those days in Alabama, all 4 classifications played in the same Sectional and the top 2 teams advanced to State at Gulf Shores State Park GC. The top ranked team in the State, Decatur HS, was in our Sectional and we were playing at their home course, Decatur CC. The conventional wisdom was that we were all playing for the 2nd qualifying spot.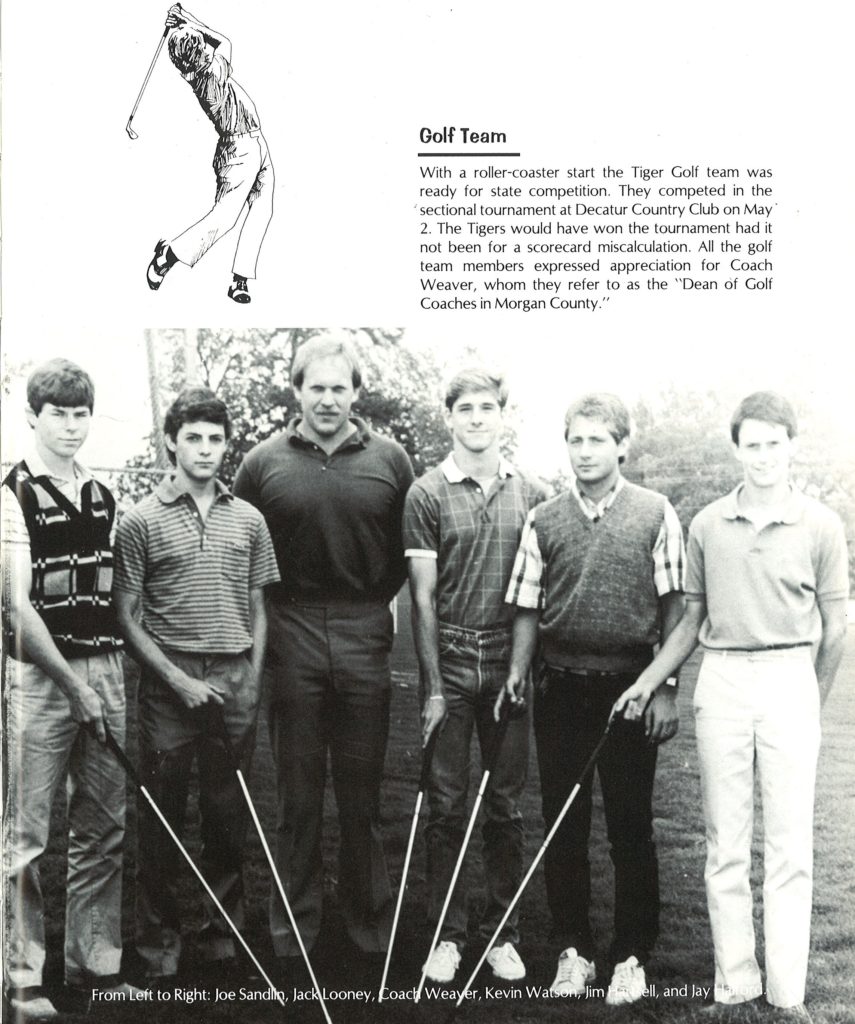 What happened that day was one of those magical rounds that only seem to happen in high school team golf. 3 of us 4 Seniors played our best round of the year. Out of the blue, our 5th man played great too. As the scores were going up on the board, we started to realize that not only were we going to qualify for State, but we were going to win Sectionals outright by 5 strokes! Even over 30 years later, I can still remember the excitement of those few moments. But it all came suddenly crashing down. As the coaches were rechecking the scorecards, it was discovered that one of our guys had signed for an incorrect score. His written total was correct, but when it was rechecked it showed that he had been given a par on a hole that he actually bogeyed. When he was asked by the Committee what he shot, he said 78, but the total actually added up to 77. He was immediately disqualified and we had to count an 87, instead of his 78. We dropped from 1st to 3rd and did not qualify for that mythical State championship by 1 stroke. It took me 30 years to get over that day, but ironically I did thanks again to high school golf.
I introduced all 3 of my boys to golf at a very young age. My youngest showed a natural talent for the game from the start. Around the age of 11, he asked if he could just focus on golf. He was a good baseball player and Hartselle is a baseball obsessed town, so this was not a casual decision. I was secretly thrilled by this. No more interminable, mind-numbing hours at the baseball park. I could spend hours on the golf course watching one of my boys play my favorite sport. He started playing on the high school team in 7th grade, just as I had all those years before. The difference was that HHS had some great players.
In 8th grade, he was low medalist with a 68 in a really big tournament and had several top 5 finishes. It's impossible to put into words how much fun that was to watch. The team qualified for State and they finished 6th out of 6 teams in their classification, but they were a young team. The experience was invaluable. The next season they qualified for State again and finished 3rd, missing the runner-up trophy by a stroke. 4 of the top 5 players were returning for his 10th grade season.
I could go into great detail about that run in the Spring of 2015 through Sectionals, Sub-State (which included the top 6 boys teams in the entire State) and finally State, but it would be a full book. The Sub-State was exciting as the 1986 Masters for me, as Jordan chipped in for eagle on the 15th hole to get us back into contention on the windy, baked out course. Its a day I still think about a lot. A week after that unforgettable Sub-State tournament, and exactly 30 years to the day of HHS boys golf signing an incorrect scorecard to lose Sectionals, they won the first State boys golf championship in school history. It was a brilliant 36 hole display of golf and I was finally over the crushing disappointment of 1985. Watching your child accomplish something is 100 times better than anything you may or may not have done in your own life. Having my own Dad there to watch as well, made it even better. I love high school golf and will continue to support it however I can.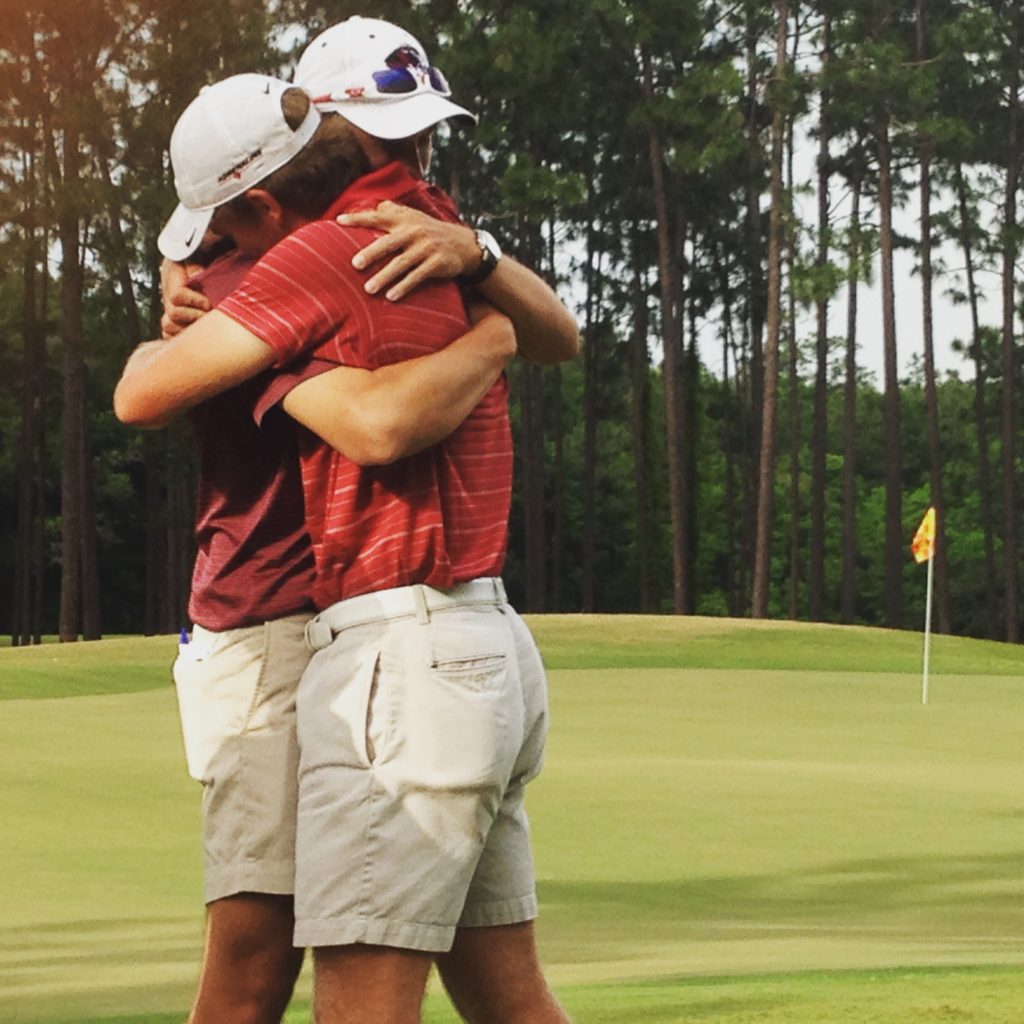 This brings me to the recent (and ridiculous) decision by the Kentucky High School Athletic Association to change the teams in the boys State Championship from 5 players (counting the 4 best scores) to only 4 players. In a era where we need to be growing and encouraging participation in golf, this makes no sense to me. If the goal is to speed up play, that can be accomplished by strict management on the course. Anybody that has ever played in a USGA qualifying event can attest to that. How do athletic administrators come up with these ideas? From what I can tell, every golf coach in Kentucky is against this decision. These coaches make little or no money to coach high school golf, and in my experience they do it because they truly love the game and the kids. If the Kentucky high school coaches are all against this decision, that fact alone shows it is wrong. Playing in State will be the sports highlight of most of these kids lives. Do the right thing KHSAA and let the 5th man play.