There are, of course, golfers with no soul for scenery.
– S. L. McKinlay, Scottish Golf and Golfers
In his seminal 1994 book, Hell's Golfer, Shetland author Tom Morton takes (what I have always assumed to be) a semi-autobiographical motorcycle journey throughout the Western Isles of Scotland. The journey begins on the Kintyre peninsula at the mighty golf triumvirate of Dunaverty, Carradale and Machrihanish and then continues on to the islands of Harris, South Uist and Skye. Stopping off at links such as the great Durness and Reay when he returns to the Scottish mainland, the whirlwind tour eventually winds on the tiny island of Whalsay at Whalsay Golf Club, just off the coast from the author's beloved Shetland. Whalsay is the northernmost golf course in the United Kingdom and its simple and unassuming beauty is the culmination of an existential journey in which the author comes to terms with his own mixed feelings about the game of golf. Underneath the veneer of general disdain and cynicism that the protagonist Arnold Evelyn Palmer seems to hold for virtually everything he encounters, there is a sincere appreciation for the simple joys of Scottish island golf. Along with Michael Bamberger's To The Linksland, it is a book that has inspired the majority of my own travels to Scotland over the years.
There is inherently something special and unique about playing golf on an island that is accessible only by ferry – or in a few cases a long causeway or bridge. My good friend Robbie Wilson of Lochgilphead, Scotland, and frequent user of the excellent and efficient Caledonian Macbrayne ferry system, explains it as simply as "the feeling of being away from home on holiday, but you are really only a couple of hours away." At most island golf courses there is a relaxed attitude not to be as readily found at more accessible locations. The golf is usually unhurried and casual, even though the pace of play itself is brisk. Some golfers, as Mr. McKinlay noted, are not driven by a love of scenery. They are missing out on the greatest joy of the game.
In America, we are extremely limited on options for the type of island golf to be found in Scotland. There is, of course, the great Seth Raynor masterpiece Fishers Island Club in New York, which 99.5% of us will only ever see through pictures on Instagram. There are a few other places around the contiguous United States. I once took a pleasant 7 AM passenger ferry ride out to Dafuskie Island off the coast of Hilton Head, South Carolina and played two extremely forgettable and now defunct golf courses – Melrose Golf Club, a Nicklaus design that took advantage of the Atlantic Ocean on a grand total of one hole and Bloody Point GC, a slightly more interesting Weiskopf/Morrish creation. While the courses were generally forgettable real estate factory golf, the entire experience of the day was great fun.
The golf on Jekyll Island and some of the surrounding areas on the Georgia coast can at times evoke this somewhat elusive type of "island golf" feeling to be found in Scotland. I have never visited any of the small coastal islands in the Northeast, but there could be a few places there that meet this loose criteria I am attempting to quantify. 4 miles off the coast of Alabama, there is the virtually lost and mythical Isle Dauphine Golf Club on Dauphin Island in the Gulf of Mexico. (More to come in the near future on Isle Dauphine GC in a somewhat more well-known forum than jhartsellgolf.com.)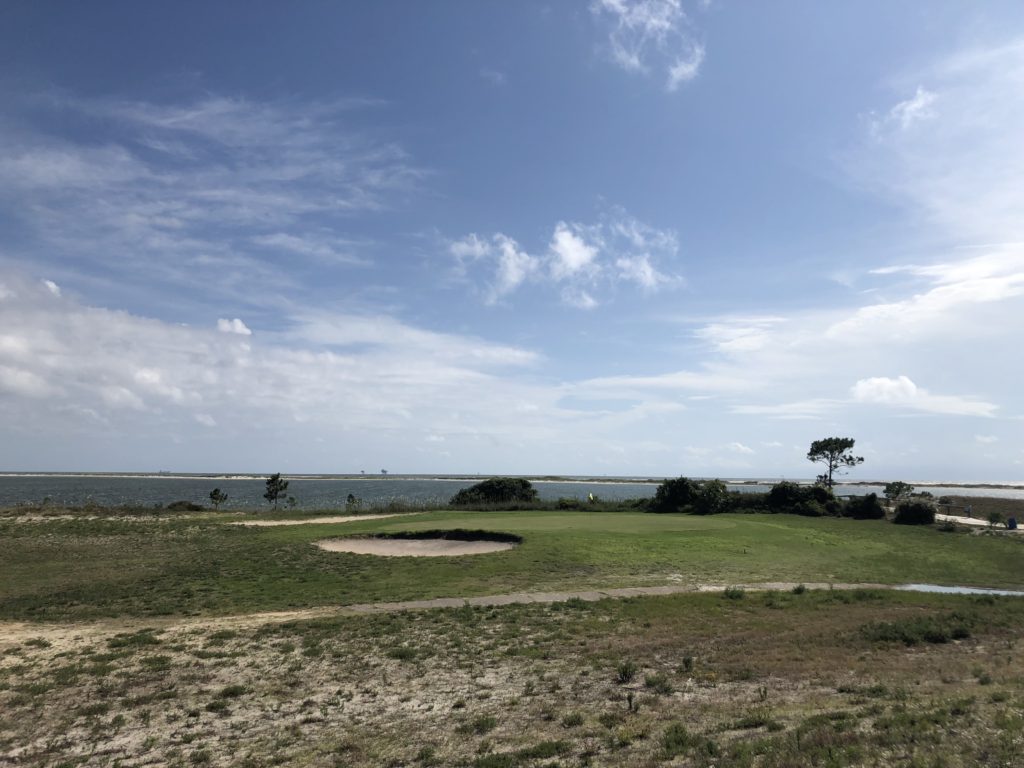 For a certain type of golfer, the roll call of Scottish island golf courses reads like the bucket list of your wildest dreams – The Machrie, Corrie, Shiskine, Brodick, Lamlash, Lochranza, Whiting Bay, Machrie Bay, Tobermory, Craignure, Millport, Rothesay, Bute, Isle of Seil, Isle of Skye, Askernish, Isle of Colonsay, Isle of Harris and Whalsay are some that come to mind immediately. While the relatively new and stunning Ardfin Golf Course on the western Isle of Jura also springs quickly to mind, at $3000 a round it's out of place in this group and not in the spirit of Scottish golf as a game of the people. It would be more properly placed in the Fishers Island Club category, although I'd love to win the Tennessee Lottery and visit Ardfin someday.
I've had the pleasure and privilege to play many of these courses over the years. For an American with limited time and budget, it can be a challenge to fit them into the standard Scottish golf trip itinerary.  A trip to play legendary Askernish, for example, is going to take the better part of at least 3 days. Still I urge you to make the attempt to work in in one or two of these island golf courses, if you ever visit the west coast of Scotland or Shetland. Some are as easy to get to as a 30 minute ferry ride, while others are a much longer journey.
The island of Arran – not included in the wild travelogue of Hell's Golfer – is easily accessible and can be seamlessly worked into a trip to the Kintyre peninsula. There are seven golf courses on the 166 square mile island, with Shiskine being the one most widely known around the world. This group of courses has be the greatest collection of "hidden" and affordable golf that exists today. You can even purchase an "Arran Golf Pass" and play all 7 courses for less than the cost of one round in 2006 at the late Melrose Golf Club. The people of Arran are welcoming to visitors and seem genuinely happy for you to play their brilliant and unique golf courses. Every ferry ride I have ever taken to Arran invariably involved a conversation about golf with a complete stranger. I will not visit Scotland without spending time on Arran. (There is also more to come soon on this topic with my Hidden Scotland series to be featured at nolayingup.com.)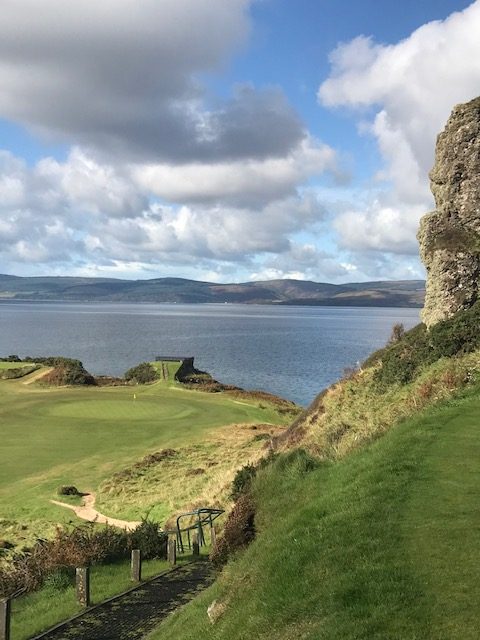 Back to Hell's Golfer – I bought my copy, soon after it was released, in the old Quarto Book Shop in St. Andrews, which was then one of the great book stores of the world. Looking for used Bernard Darwin editions, I was taken by the striking cover and bought it without even opening the book. I read the entire thing straight through on the flight home from Glasgow to Alabama. The mixture of semi-autobiographical storytelling – perhaps it is fiction, perhaps it's not – and pages of stories from local club members is unique in my experience. It is a book I have re-read as many times over the years as any book in my collection.
As mentioned, the main character Arnold Evelyn Palmer (Morton) is cynical and skeptical of just about everyone and everything – American tourists, other Scots, English trespassers, golf mystics – none are safe from his ire and scrutiny. There is a scene involving a golf oriented religious cult at the Isle of Harris ferry that is laugh-out-loud funny. There is nothing quite like the dry Scottish sense of humor. It is perhaps the main feature of this book, which perfectly offsets the recurring cynicism.
The Isle of Harris Golf Club (Scarista) tops the list of courses that I want to visit someday. It was on the itinerary for a Kintyre and Western Island trip planned for this past May, which was canceled for obvious reasons. This passage by Tom Morton about Scarista from Hell's Golfer perfectly encapsulates the joys of Scottish island golf:
"Next morning I found myself in bliss. A warm sun shone from a cloudless blue sky as I gazed out at the flawless slivery gold of Scarista beach, and I had just hit a wondrous, a truly miraculous drive on to the green of the first hole of the Harris Golf Club's stunning course at Scaristamhor. I stood on the edge of the green, marveling at the fact that this shot, which had felt no physically different to hundreds of other, disastrous attempts, had overcome the problems of a blind approach over a large lump in the 203-yard fairway to land 25 feet from the hole. And the view….My map indicated that the hill in the distance was Toe Head, but that beach was to die for, there with the rumpled stretch of undeveloped dunes behind it, perfect golf course territory. But I decided this nine-hole treasure would do, on a gorgeous Saturday morning with no one playing but myself."
Just slightly underneath Morton's cynical world view expressed throughout Hell's Golfer lies an abiding appreciation and love of what makes the game of golf great, despite its obvious shortcomings. It is a book that subtly tries to warn us about the loss of native culture and environmental threats to the natural beauty of the planet. For me, I was introduced further into a world that I had only begun to discover when I first visited the magical Kintyre peninsula in the summer of 1994. I still return to it frequently, over 25 years later. It is essential reading for those interested in visiting the fringes of Scottish golf – golf in the Western Isles and beyond.