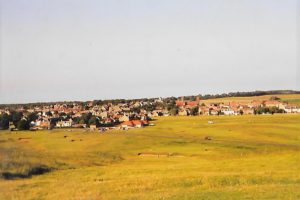 With the Scottish open returning to Gullane No. 1 this week, I started reminiscing about my 2 visits to that incredible place on the east coast of Scotland. In my mind, its one of the great golf towns of the world, leading the group just below St. Andrews. The entire village is centered around the game of golf. It's like St. Andrews in that regard, but on a much smaller and personal scale. Gullane has 3 courses, aptly named Number 1, 2, and 3. This is not even counting The Honourable Company at Muirfield, which is visible in all its glory from the mighty 7th tee on the No. 1 course. Its also a short drive from both the (famous) West and (not so famous) East links at North Berwick, as well as many other lesser known, but great seaside links such as Luffness and Kilspindie. It makes a great base for a golf trip to Scotland. Its even an easy 30 minute train ride away from Edinburgh, one of the great cities of the world.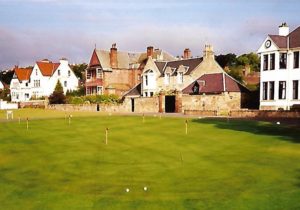 On the same epic 18 day Scotland trip mentioned in one of my earlier posts, I was accompanied by my cousin Chief, aka Chieftain. We had arrived after the overnight flight at the Glasgow airport and had planned to drive to play Gullane No. 3 as an easy warm up for the trip.  (Note: I always believe in playing the afternoon you arrive in the UK, then going to bed and hopefully sleeping through the night from sheer exhaustion.) Unfortunately, as somehow so often happens, the airline had lost our golf clubs. They promised to ship them to us asap, so we grabbed our rental car and headed on the 2 hour drive to the Gullane Golf Hotel. Surely the Gullane Golf Hotel is one of the great low key golf hotels in existence, with a wonderful small bar and excellent restaurant. When we informed the clerk that our clubs were lost and were supposed to play at No.3 in a couple of hours, she immediately offered to arrange clubs for us and said they would be waiting for us in the pro shop. The Scots take golf very seriously.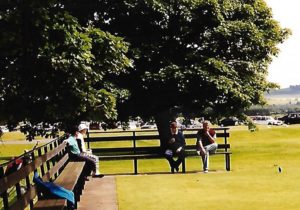 Of course, we had both packed for 2 weeks of 58 degrees and 25 mph winds. When we walked outside, still recovering from the confusion of the travel day, we realized it was 80 degrees and blazing sunshine, without a breath of wind. In a desperate search for golf shorts, we went into a small clothing store that appeared to have a nice golf selection and asked if they had any shorts. The saleslady laughed out loud and said, "Aye, we had some in 1977. That was the last time it was ever this hot." This was July of 2000. I don't remember much about playing Gullane No. 3 that day with borrowed clubs, other than it was great fun and Chieftain and I had good match.
I recall quite a lot about our 3 rounds on Gullane No. 1, one of the great links on the planet. I can clearly remember several of the holes to this day, which to me is a sign of a brilliant layout. Think about the first time you played at Sweetens Cove Golf Club, for example. On the drive home that night and for weeks afterward, I am willing to bet you had a clear recollection of every hole you played that day. This doesn't happen a lot on most golf courses, in my experience.  I urge you to watch the Scottish Open and see the course for yourself. Although the old cliche is true, television does not do it justice. My overriding memories are of the first 6 holes playing up and around Gullane Hill, until you reach the summit of the 7th tee. This is easily one of the top 5 spots in the entire world of golf. To your right is the view of legendary Muirfield, which hopefully you have duly written the Club Secretary a year an advance and have secured your tee time for. To your left is the entire glorious world of the Gullane links courses. You then play downhill to a plateau of holes hard by the North Sea. The 11th is a special favorite of mine, with almost an infinity green as you approach downhill from the fairway, There is not a bad hole on Gullane No 1. There is enough width to the fairways to be playable for the average golfer and to allow for the ever present winds. The rough is another story. If you are unfortunate enough to find the Gullane rough, you should take the advice of my caddy Chris McBride and "only look in spots where you HOPE the ball might be." It is most likely gone, unless you get lucky.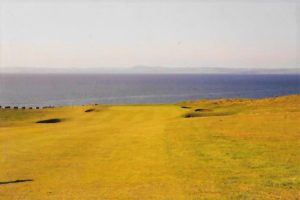 The 18th hole is somewhat maligned, like many great Scottish links closing holes. Some would say its main purpose is simply to get you from the glorious heights of the 17th hole back the clubhouse. However, I love the hole. I don't know if the European Tour changes it at all for the Scottish Open, but it's normally a potentially drivable par 4 birdie opportunity, taking you straight back into town. Each bunker is its own version of death. I can't think of a more enjoyable match play hole to end your round on.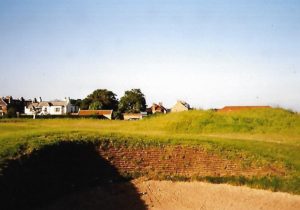 One closing thought. There is a small six hole "children's course" right in the middle of town. I recall eating a late dinner after playing 36 holes and watching from our restaurant window as parents and children were out playing the "wee links" at 9:30 at night. It never really gets dark in Scotland in the summer. I finished my pint and walked out of the restaurant and sat on a bench at the little course for an hour, just listening to the sounds of golf in Gullane.
Note: All photos by author.