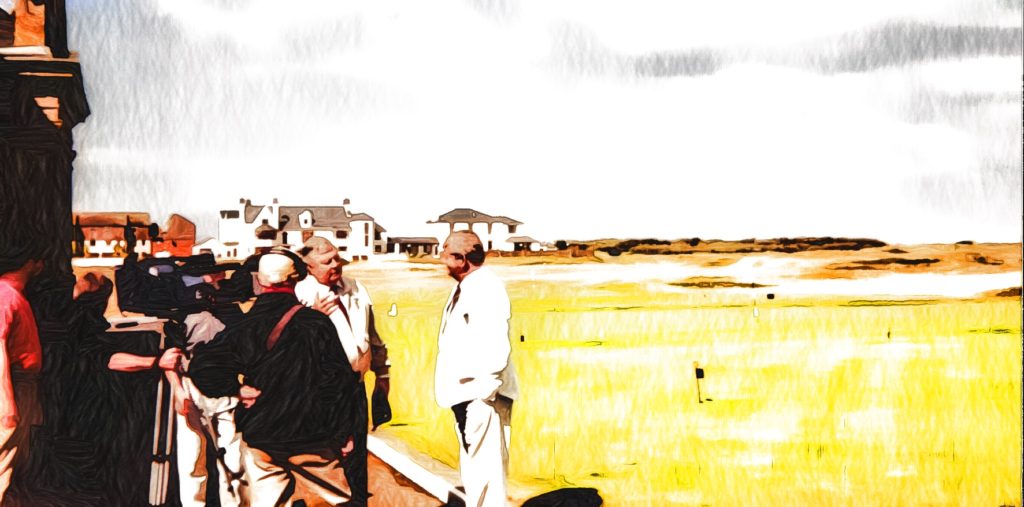 I was first introduced to Peter Alliss, who died today at age 89, as part of the legendary ABC golf broadcast team (which included Jim McKay, Dave Marr, Jack Whitaker, Judy Rankin and Bob Rosburg) that covered the Open Championship, US Open and US PGA when I was growing up in Alabama. From as early as I can remember, the Open Championship was my favorite golf tournament. My Dad and I would watch every hole of the ABC broadcast on Saturday and Sunday – me pulling for Nicklaus or Watson and him clinging to hope that Arnold Palmer would find some links magic in the twilight of his career. The courses were beautiful and wild – so much different and exciting than the vast majority of United States golf. It started a lifelong love affair with Scottish links golf that continues to this day. Peter Alliss, with his erudite, elegant and brilliantly insightful golf commentary, was a large part of that love affair.
Peter always lent an air of quiet authority and subtle humor to the broadcast proceedings. Most importantly, he knew when to stay silent and let the picture talk. In later years, when the American broadcast of the Open allowed Alliss to take over commentary for an hour each day, it was the undisputed highlight of the telecast. He was able to talk easily and unforced for that entire hour, describing the action in a casual and brilliant way that made you feel like you were at Turnberry, Muirfield or The Old Course with him. He seemed to enjoy a random dog running through the surf on the beach at Troon as much as the golf itself. This was part of his genius. At times during the last few years I was able to get the BBC feed of The Open and would get up at 2 am so I could listen to more of my favorite commentator. His mind never seemed to lose its' razor sharpness, even has he entered his late 80's.
I met Peter Alliss once at Prestwick GC on the Ayrshire coast of Scotland in August of 2000. The 1st tee at Prestwick is one of the most famous places in the world of golf and the Railway Hole is one of the greatest holes in the game. On a much smaller scale, the scene at Prestwick is reminiscent of the 1st tee at The Old Course, with random people milling around outside the clubhouse to see what all the fuss is about as the golfers tee off. As I was standing there taking it all in before our tee time, a small BBC camera crew started to set up for an interview right next to the first tee. All of a sudden – out of nowhere – the great Peter Alliss was standing by himself 15 feet away from me, looking over his notes. I always try to be respectful of other people, but I just could not pass up this opportunity to speak to one of my heroes. I walked over and introduced myself.
For lack of any better introduction, I told him that I was a huge fan from the United States and it was an honor to meet him. He could have – and probably should have – brushed me off, but was a nice as he could possibly be. He asked me what I thought about the old course at Prestwick and mentioned that it was one of his favorites. When I told him we were headed to Machrihanish, by way of the Isle of Arran, after we left Prestwick, I like to think he seemed impressed, "Machrihanish? Well, you are in for a treat indeed", he said. It was no more than a two-minute conversation – he was working after all and I had rudely interrupted – but it left me with the impression that he was exactly the man that he appeared to be on television.
With the advent of social media, the world has seen an explosion of blatant self-promotion in the last few years. A man like Peter Alliss did not need to promote himself. His economy of words, quiet authority and dry, insightful humor were all he needed. He was the last in a line of great British writers and golf commentators that included Bernard Darwin, Pat Ward-Thomas, Peter Dobereiner and his mentor Henry Longhurst. He will be missed in a world of so much constant noise and attention-seeking.
This morning I watched his BBC call of Tom Watson's fateful approach shot into the 72nd hole at Turnberry in 2009. As Tom Watson and his caddie Neil Oxman discuss the shot, Alliss begins his commentary:
"We've seen Tom Watson play some beautiful irons into the final green when he's won his five Open Championships. Can he do it just one more time?
Then silence for several seconds as Watson goes through his quick pre-shot routine. Right before the swing, Alliss says quietly:
"One good straight one, Tom."
It was a perfectly struck shot. The sound of the strike told the entire story. Alliss knew that. But seeing Watson lean slightly left, he comments:
"Has he pulled it?"
"No, it's online….it's good."
Then there is silence from Alliss for several seconds as Watson gets the cruelest of links bounces. The crowd groans and cries out as if in physical pain. Finally, the great Peter Alliss says,
"Would you believe it?"
No, we would not – and still don't – Peter. The world of golf, and the world in general, is a lesser place without you today.