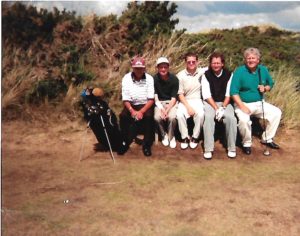 The 10th hole, "Arran", at Prestwick Golf Club in Prestwick, Scotland is one of the world's toughest par fours. 460 yards, all uphill and into the prevailing wind, it is a challenge even in benign weather conditions. On my 3rd and last visit to the great historic links in July of 2000, I was once again being "caddied to", as the old time Scottish caddies still sometimes say, by Chris McBride. I had played a respectable front nine and was up first on the 10th tee in our father-son foursome. The hole was playing dead into a 25-30 mph wind, as often happens on the Ayrshire coast. I turned to my longtime caddie and asked hopefully, "Can I get there in 2 today?" He replied in a somber tone, "Aye…. aye, you can indeed……if you hit 3 good shots."
On my first visit to Scotland in 1994, and on a very tight budget, I took a caddie only once the entire trip. At Prestwick I planned to purchase a "day ticket" and play 36 holes on the way to Machrihanish. Having read all I could about the course, it seemed wise to have a caddie there for at least the first 18 holes. I drew Chris McBride by chance that day. We immediately hit it off when he sensed my appreciation and love of golf history. He caddied in several Open Championships and seemed to be the caddie of choice when a famous player came to play the links. He proudly showed me a picture of he and Ben Crenshaw together from a few years earlier. After we had played about 3 holes, Chris started handing me the club to hit before each shot, usually without any discussion. If he handed me a 3 iron, it was a 3 iron shot. The man was a genius. I shot 80 that first round. It was, and remains, one of the most enjoyable rounds I have ever played in golf. I asked Chris to meet me back on the first tee after lunch for another 18. In hindsight, I am now quite sure he walked across the street to his spot in the bar at the Prestwick Old Course Hotel and had a few pints of Guinness stout while we had lunch upstairs in the clubhouse. The afternoon round was just as great as the first, hitting all kinds of shots under the direction of a masterful and brilliant caddie.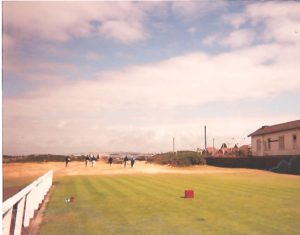 I made 2 more trips to play 36 holes at Prestwick, once in 1997 and the final time in 2000, all with Chris McBride as my caddie. In one of the more ironic twists of my golf "career", I shot 80 all 6 times I played the course. I have the scorecards to prove it. Chris and I corresponded between my trips over the years. He had quit calling me "Sir" by that point. I like to think that he had become a friend. His brilliance not only lay in his tremendous knowledge of the game of golf, but in the psychology of the way he handled his players. In one round, after missing 2 drives left in the first few holes, I had become slightly upset. As we walked off the tee to look for the ball in the left rough, Chris said, "You definitely have left wing tendencies today."  Any anger at myself for hitting another smother hook immediately dissipated and I was laughing and having fun, the way golf should be played.
On my final trip to Prestwick in 2000, accompanied by my cousin Chief, I arrived late in the afternoon on the day before we were scheduled to play. After checking into our B&B, I walked over to the Old Course Hotel bar in hopes of finding Chris. I walked in and there he was with his pint of Guinness. He looked up and saw me and immediately said "James, Jimmy, Jim!" and gave me a hug. It was like 3 years had not even passed between us. We sat down and he began to tell me about caddying to Ken Duke in the 1997 Open at Royal Troon. The conversation turned to the conditions for half of the draw during the first round (the Open won by Justin Leonard), which were by all accounts horrific. I knew that my hero, the then 57 year old Jack Nicklaus had shot even par on the back nine that day in the absolute worst of the conditions. I also knew that Ken Duke and Chris had been out in the worst of the weather, at the same time as Jack. When I mentioned Nicklaus's back nine score to Chris, he said, as somber as a judge, "That is the greatest nine holes ever played in the history of golf."
We played 36 holes the next day. Before the round, I told Chris that I just wanted to break 80 once at Prestwick. He assured me, very seriously, that we would do it this time. After yet another improbable 80 in the morning, I came to the final hole in the afternoon round needing a birdie on the short par 4 18th to shoot 79. I hit my best drive of the day. As it flew through the air, Chris said, "That's perfect or I'm Margaret Thatcher."  Sure enough, when we got to the green my ball was on the front fringe, 40 feet away from the cup. I only needed 2 putts for the elusive 79. Chris read that putt like I was Tom Watson putting for a record 6th Open Championship. I hit a good putt but it went 4 feet by. Of course, I missed the comeback. 80 once again. As he shook my hand, I swear there was a tear in his eye. What a caddie.
After the round, he invited Chieftain and me out for a night in his hometown of Ayr, right down the road from Prestwick. We jumped on the train for a 10 minute ride and he met us at the Ayr train station. What followed was a night of discussion of golf history that will never be recreated in my lifetime. His knowledge of the game was encyclopedic. As we were winding down that unbelievable night, he took us back to his house and graciously called a taxi to take us back to Prestwick, which he insisted on paying for. Standing on his front steps, he said, "We will break 80 next time, Jim." I said, "It doesn't matter, Chris. I had so much fun." His last words to me were, "Aye.That's all that really matters."  We got Chief in the taxi and I never saw Chris McBride again. We corresponded for a few years and then lost touch, like people do. I've never been able to go back to Scotland. I hope I make it back someday with my sons. I hope Chris McBride is still caddying at Prestwick.
I love caddies. Phil's long suffering caddie Bones is a personal hero of mine. When Phil and Bones split last year, it was almost like a death in the family. I also enjoy caddying. After several months away from tournament golf, my son was getting back into it to get ready for the Summer tournament season. His first event back was the US Open Local Qualifying at the RTJ Silver Lakes course in Glencoe, Alabama. This would be followed 2 days later by the Alabama State Amateur Qualifying, at the same course. I volunteered to caddie for Jordan in both events and had been "training" for several months to handle the difficult walk at Silver Lakes. In all honesty, I was more excited about this caddying opportunity than had I been playing myself. Watching your child compete in sports is one of the great joys of life, if not the greatest. To be able to do it in a player-caddie relationship is even better.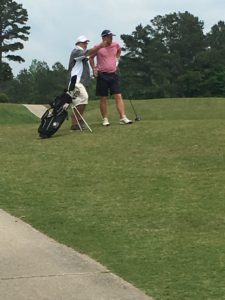 As you might expect, the course set up for the US Open Qualifier was brutal at 7,400 yards. We had a tough day, but there were several bright spots including a near eagle on our last hole, the par 5 9th on the "Backbreaker" 9. A beautiful drive and 5 iron to 10 feet and a putt that should've gone in  We played with a 62 year old pro from Georgia called Charlie King, who told us he had qualified and played in every USGA event he was eligible for, except the US Open. This was going to be his last attempt to make the US Open. The difficult walk and length of the course were way too much for him but he gave it a brave shot, his caddie nearly jumping for joy every time something good did actually happen. In the clubhouse after the round, he graciously told Jordan that he had only hit 3 or 4 bad shots that killed his round and if he could cut those out he could have played great, He encouraged him to keep working hard on his game. The USGA may not care much about this aspect of the Local qualifying and, in fairness, it may not matter to anybody but me. I think that a 62 year old pro in his last attempt to qualify for the US Open, playing with an 18 year old college player in his first attempt to qualify, is what golf is all about.
We had higher hopes for the State Amateur Qualifying 2 days later on the same two nines of the 27 hole facility at Silver Lakes. The set-up was more reasonable at 6800 yards and it was the 2nd chance for Jordan to shake off the rust from not competing for so long. In the first 5 holes, we missed 3 birdie putts inside of 5 feet. We were 4 over on the front 9 and could have been -2 without hitting a single shot differently. Even though you have to let these things go, they can be very hard to overcome mentally on a difficult golf course. The wind was steady at 15 mph most of the day with gusts up to 20 mph, so I thought the qualifying cut-off score might be higher than anticipated. I encouraged Jordan to shoot even or -1 on the back and I thought we could still make it. To his credit, he battled back with great birdies on 10 and 11. There was a good bogey on 12 after a bad drive and great par on 14, one of the most difficult par 3s in the entire state of Alabama. We came to the 15th tee at +3 for the day. The 15th is a 400 yard par 4 with an exposed tabletop green. He unleashed his best drive of the day, easily carrying the corner of the left hand bunker at 275 yards off the tee, on the exact line I had pointed out on the tee. The ball ran out to 340 yards in the dead middle of the fairway, 60 yards from the green.
It has often been written that golf emulates life more closely than any other sport. I tend to agree with this assessment. We made the walk to that drive thinking that we were in perfect position for a birdie. The pin was accessible and Jordan can hit the low 60 yard checking pitch as good as anybody I've ever seen. However, when we got to the ball it was sitting squarely on a patch of bare dirt in the middle of an otherwise perfect fairway. This is where I failed as a caddie. I often wonder if Bones has nightmares about Phil hitting driver off the 72nd hole at Winged Foot in the 2006 US Open, or even moreso about the insane 2nd shot he tried to hit next with a 2 iron. Does he still wake wake up at night wondering if he should've done more to stop Phil from hitting the wrong shot in that situation?
Jordan pulled out his 60 degree wedge without hesitation and made practice swings to hit the low checking pitch that I've seen him hit 500 times over the years. I knew from 45 years of experience playing golf that to pull off that shot from that lie required a strike that not even the great Phil Mickelson himself could do more than 20% of the time. The correct shot was to punch an 8 iron and run it up the hill to the hole. But as a caddie, you have to be positive with your player's shot selection, even when you know its not the right shot. Unfortunately, the ball was caught predictably thin and flew 40 yards over the green into knee high rough. A semi-miraculous bogey still left us with a chance to qualify, but then I made another terrible decision on the 16th tee. (the 7th on Heartbreaker)
This hole is one of the strangest par 5 holes I have ever seen, on an otherwise very good golf course. It is so ridiculous that over the years in other tournaments, I have seen players play 120 yards left into the adjoining 1st fairway, from where there is an actual landing area and angle to play the 2nd shot. The AGA has remedied this situation by creating an internal out of bounds so that route option is no longer viable off the tee. The hole was playing straight downwind and we had a 320 yard carry to cover the bizarre double ponds which guard the virtually non-existent landing area. I think Jordan wanted to hit driver and try to carry everything, but thinking (correctly as it turned out) that we still just needed 3 pars to to qualify, I encouraged him to hit 3 wood to lay up. This was not even the correct lay up shot. The correct conservative play would've been 5 iron, followed by another 5 iron and then a wedge shot. He wasn't committed to the 3 wood shot and hit it slightly left in the water, leading to another bogey. His concentration was gone and he missed short par putts on 17 and 18 to miss qualifying for the State Amateur by 3. I failed twice as a caddie in the 2 most critical spots of the day. I had a hard time sleeping last night. A couple of friends that have a real interest in Jordan's golf career told me I am being too hard on myself. Maybe they are right, but it doesn't feel that way.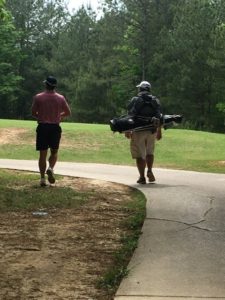 As I imagine most players and caddies do, we discussed the round shot by shot on the drive home from Glencoe last night. We both see the two days as positive and I am looking forward to my next opportunity to caddie at the Southern Amateur Qualifying at the Donald Ross designed Mountain Brook Club in a few weeks. I can't think of a better way to spend a vacation day away from the office.