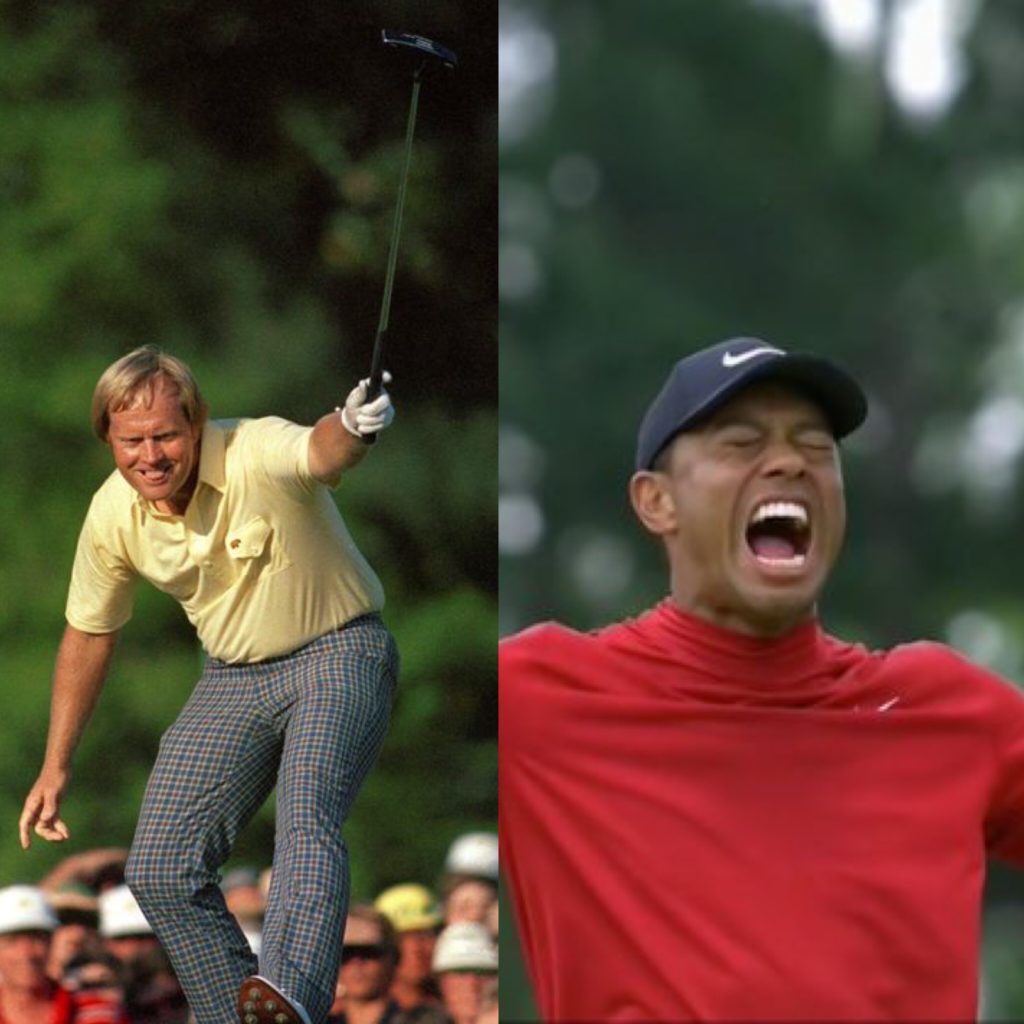 On a beautiful spring afternoon in 1986, I was an architecture student at Mississippi State University. I turned on The Masters to watch with my roommate, Jay, who happened to be one of my high school golf teammates. We lived in Sessums Hall in one of those old style 12 x 16 dorm rooms, with 2 beds and a sink. The shared bathroom was at the end of the corridor. We had a black and white tv with an antenna, sitting on a dresser. It might have been 18 inches. Fortunately for us, it was a clear day and we could pick up the CBS affiliate in Starkville, Mississippi that afternoon. Dorm rooms didn't have cable television in 1986. It's hard to comprehend now, but the Masters broadcast only started when the final group was on about the 7th hole. You really only got to watch the back 9.
Jack began his impossible charge that day with birdies on 9, 10 and 11. After failing to birdie the 8th, I believe he was 6 strokes behind Seve Ballesteros, then the greatest player in the world. When Jack bogeyed the 12th, Jay said "It's over." I wasn't as quick to give up on my childhood hero. A textbook birdie on 13, followed by a solid par on 14, led to the most famous 3 hole stretch in golf history, in my opinion. It was almost too perfect. When Jack made an eagle on 15, CBS cut to a shot of Jack's ancient enemy Tom Watson, watching stoically with his arms crossed at the top of the hill while waiting to play his 2nd shot into the famous par 5. The great Ben Wright was on the call…."And also an interested spectator, TOM WATSON, who knows that his old rival has got the better of him at the moment!!" I still get chills when I watch that sequence. I miss Ben Wright.
I won't recount shot by shot of how it ended with a brilliant 65 and Jack's record 6th Masters title. Most golf fans know what happened. Jack almost aced the 16th, with a tee shot that was virtually identical to the one played by Tiger Woods on Sunday. When Jack's ball approached the hole, it was the loudest roar I can ever recall while watching golf on television. As fate would have it, my Dad was at the tournament that weekend with his brother and they were positioned between 15 and 16 on Sunday. You can see them on the video. My Dad was younger than I am now. Time just gets away from us all.
When they got to their hotel room outside of Atlanta that night, he called me in my dorm room to talk about the Masters for a minute. Long distance calls were expensive in 1986. We had watched the final round of the Masters on Sunday together for as long as I could remember. Now I was in college several hours away from home. I clearly recall him saying that the roars for Jack on 15 and 16 that day were the loudest cheers he had ever heard at a sports event. (and he was at Alabama football games during the Bear Bryant championship run in the early 1960's)
My Dad was an Arnold Palmer fan that had grown to like and respect Jack. He knew how much this seemingly impossible victory meant to me. When the phone rang, Jay and I had just gotten back from flying out to play 9 holes at the MSU golf course, finishing in the dark. We just had to go out and play after what we had witnessed on our little black and white television. That phone call about the Masters was my Dad's way of saying that he loved me and how much we both loved golf. Sports is often the way that fathers and sons communicate these feelings. I expect that the same scenario played out across the country this past Sunday, except that the call would be on an i-phone now. Or it might be a long text exchange.
I watched Tiger win The Masters on Sunday, of course. I got excited when Mickelson birdied 5 and 6 and had a short one on the 7th to get to 9 under. When he hammered that short birdie putt through the break, I somehow knew he was going to fade. Phil has been fun to watch the last 25 years. He should've won several more majors, but he only knows how to play golf one way. I hope things somehow go his way at Pebble Beach in June.
In the interest of full disclosure, I have never been a big Tiger Woods fan. His attitude towards fans, and competitors for most of his career, just rubbed me the wrong way. The first time I really remember watching him was in the US Amateur final at TPC Sawgrass, against Trip Kuehne. Kuehne outplayed him by miles from tee to green for all 36 holes, and Tiger just made impossible 30 footer after 30 footer to steal the match. That's just match play golf, but Tiger's histrionics right in Kuehne's face, who seemed to be a real gentleman, just struck me as wrong. I felt much the same way when Tiger impossibly beat Steve Scott in extra holes at Pumpkin Ridge a couple of years later.
Over the years, his attitude towards kids seeking autographs at tournaments, and with fans in general, just continued to form a negative opinion for me. As a 9 year old, I recall walking out in the fairway (!) to get Jack's autograph at a charity event in Birmingham, Alabama. He was the greatest player in the world at the time and had 2 Alabama state troopers on either side of him as he played. One of the troopers told me rudely to get back as I approached. Jack stopped him and shook my hand and signed my autograph book. That has always stuck with me. Can you imagine Tiger acting that way when he was at the height of his career? Also, I have always felt that Jack accepted defeat better than any athlete in history. The same cannot be said for Tiger, at least prior to his improbable comeback over the past year. I do believe he has become more appreciative of his fans, and more respectful of his competitors, at this point in his career.
I have always respected what Tiger has accomplished in golf. He is clearly one of the top 2 players of all time. I also think his reaction on the 18th at Augusta on Sunday was the first true emotional reaction to winning that he's ever had. I believe he has actually changed some as a person and become more human, most likely because of his own children and everything that he has been through. I even found myself pulling for him to win down the stretch. The tee shot on 16 was brilliant. It's hard not to feel emotion when you see his kids hug him on the 18th, like Jack and Jackie Nicklaus did in 1986. I smiled thinking about kids (and Dads) around the world rushing out to get in as many holes as they could before dark, because Tiger Woods had just won the Masters.
A lot of people that I really respect have written that this was the greatest Masters, if not golf tournament, of all time. I actually understand and appreciate how they might feel this way. I am happy that they got to see their childhood hero come back and win a major again. I know what that feels like. Tiger's victory is exciting and great for the game of golf. I am for anything that brings positive attention to the game I love. Just don't tell me this was the greatest Masters of all time. That was in 1986.