A discussion with Sweetens Cove Superintendent Brent Roberson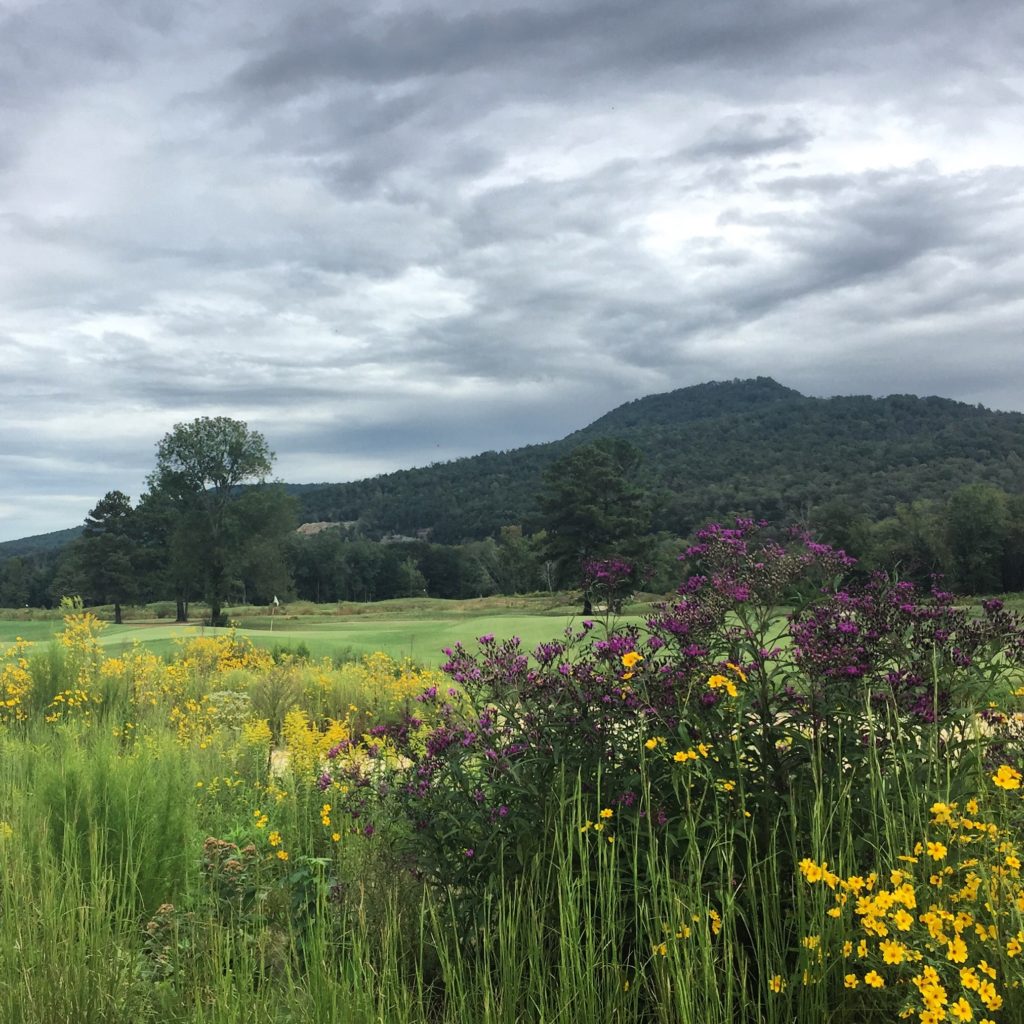 With Sweetens Cove being closed for several days for "course upgrades," I recently talked to course superintendent Brent Roberson about what he is trying to accomplish during the closure. We also discussed other upcoming maintenance projects, as well as how Brent came to be superintendent at Sweetens Cove and some of his thoughts on playing the course.
What is the main objective during this week long closure?
We are aerifying and putting a layer of sand on the entire course. With access to so much sand and with this big top dresser, we load a bunch of sand in it we go out. You know, we might do one strip down #1 fairway and then we have to go back and load it up again and run another strip.
It's a long process. Not just doing it, but to keep the machine running. Unfortunately, today our hydraulics got a little too hot. We had to shut down a little early, but we fixed some seals on that. We'll get it going it going again in the morning. We'll get it done.
So you have aerated all the fairways and surrounds. Is it big holes that you are making?
There is a three quarter inch hole put in the ground when we aerify. It's like aerifying a green, but it's a fairway. With the height of the cut on the fairways being taller, it heals in no time. I mean honestly, in a week or two you'll barely even be able to tell I did it, except in the thin areas where I don't get much irrigation or water.
But yeah, that's the main thing we are doing during this shut down. With our new lease package, hopefully we're getting in about a month, I will be getting fairway verti-cutters.
That will help you out a lot.
It's really good to keep your grass thinned out and with the way our golf course is supposed to play, it would help around the greens being able to putt a little more and keeping it a little smoother, so the ball doesn't bounce going up those steep slopes.
Yeah, I know exactly what you're talking about like in the front of two green, three and seven, especially. Are you still going to do more drainage work? I noticed some drainage lines painted on the ground last weekend.
Oh, yeah. We're planning on it. A lot of these contractors that were talking to are talking about being available in August. So it's something that will come in. Yeah the drains….I'm sure you've noticed especially on like number three, they tend to fall in. The sod kind of creates a hole around these drains. Especially during the flooding whenever you get that suction and pull where the water starts to go down, it just pulls that soil down and it's really hard to keep those level. So what these guys are going to do is they're not only going to create drainage so that we drain better overall, but they're going to flush these basins to where we can mow over the top of them with no problem.
Okay, but you're not trying to do any of that this this week while you're closed.
Oh no, no. We just don't simply don't have the manpower to do that. We would love to, but we don't.
So the sand layer….are you doing that on every hole?
Yeah, we're on the fairways now.
We haven't finished number one yet. We have done all the tees and approaches except for number five. That's the only one we've got left, that so that's big there. So now we can really focus in on the fairways and I've got that big top dresser I was telling you about. We try and keep that running as long as we can. It stresses out the equipment. The tractor takes a beating. I'm getting some help next week Tuesday and Wednesday. I'm getting another spreader truck coming in. So we'll have two of them going to finish up the job. I may not get finished. It's a very good possibility, because we're putting out so much sand. It's something that I can do during play if I don't have too much left to do at that point.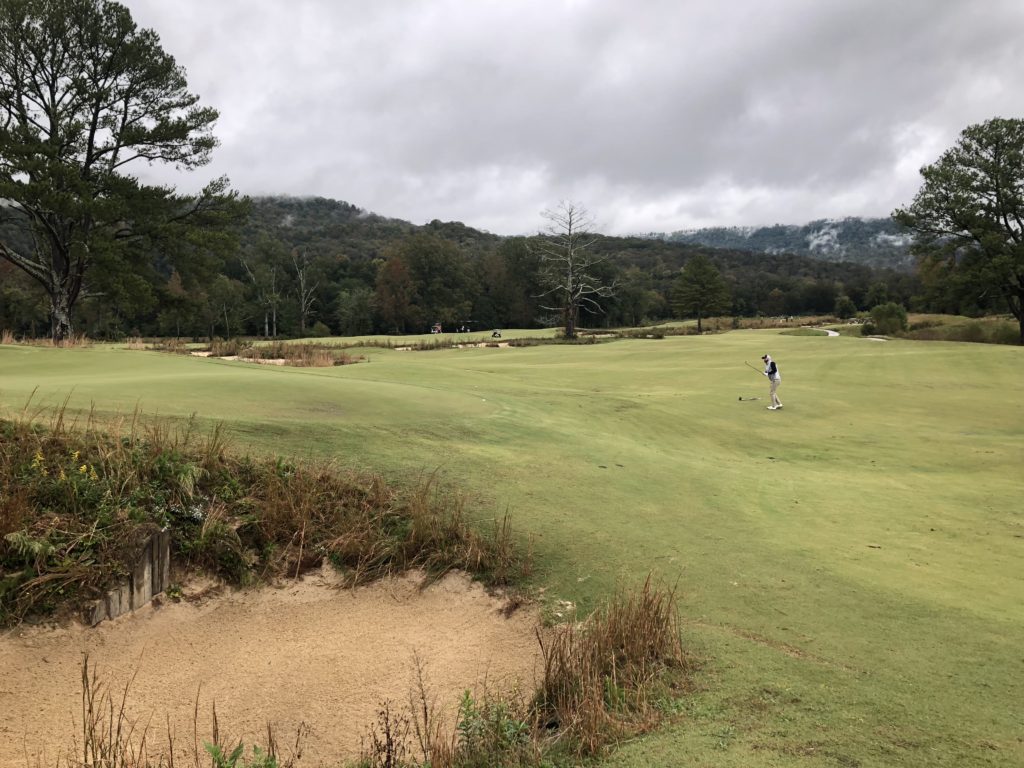 Yeah. I can see that.
It's just a big job, a big area. But it is very beneficial to the course playability wise. It makes it firmer. It should drain better also, because your put those holes in the ground and instead of that clay that was there you're getting sand in there so that the water will percolate through the soil mass.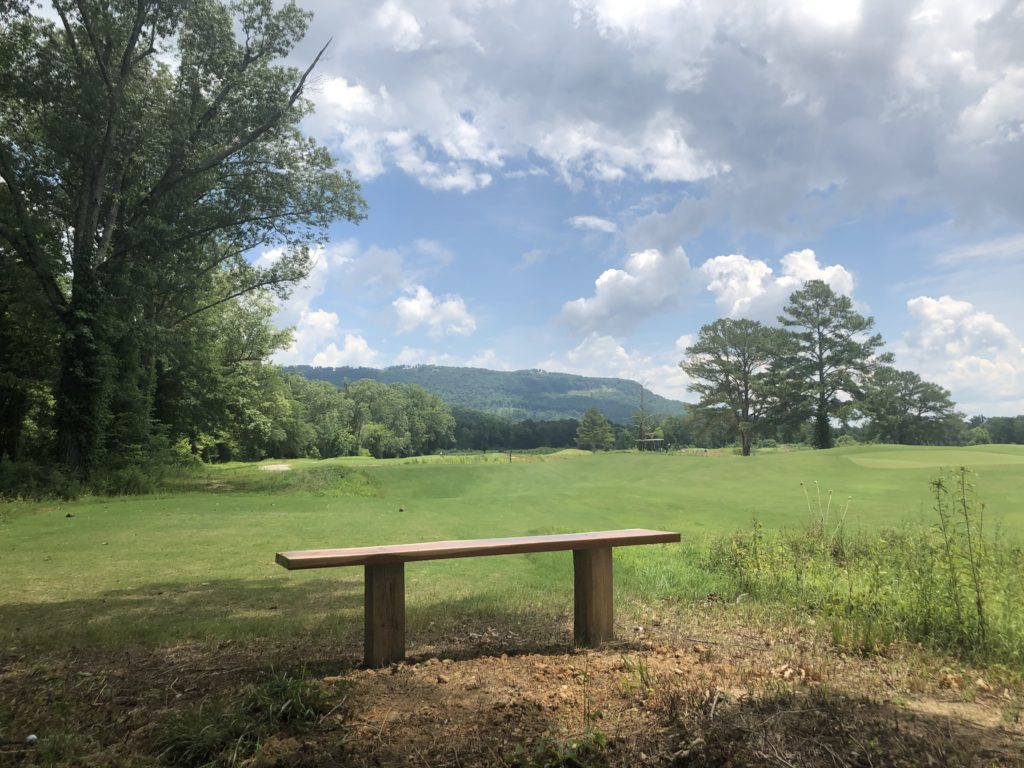 Well, I've got to tell you the last few weeks the course has been really good. The fairways are fast and the greens are rolling faster. When are you going to aerate the greens?
We've got that planned for July 29th. So yeah, that's going to be our date on that. We're going to go out poke our holes and we'll put a bunch of sand down again to try and help them mend in better. Last year, I had a big rain right after we aerified. I don't feel like I got enough sand down. But not only do you have to put the sand in the holes and get it filled up and keep that lens in there while the while the grass is trying to melt in and cover those holes, you've also got fertilize more. The two to three weeks after that, they're probably going to be a little hairy, but I'm just trying to get them grown in. My focus is more along the lines of you know for the September, October, November golf.
Which is the best time of the year for golf at Sweetens Cove.
I totally agree.
I talked to Patrick Boyd recently and he was really complimentary about when you came in and started working on the course. I know you're a golfer and you love golf. What did you think the first time you went out to Sweetens? That's the question I always ask people. Did you know anything about it ahead of time? What was that process like when you when you first came out there?
That's a good question. I had heard about it somewhat, but someone had told me that it had shut down, like they had stopped work on it. I knew the old course, Sequatchie Valley. I had played it in high school. Now I knew where the course was located, but from people and contacts that I had in the area they had told me it had shut down.
So I was in South Florida. I'd been at the Bear's Club for 10 years. I took a job there because of the money in Boca. It wasn't the greatest golf in that area. Then I actually took another job at Bear Lakes down there, which is where they used to have qualifying school. I had only been working there for six months. I was the superintendent, but there was a Director of Agronomy in front of me. So I only had one course. I was just I was always wanting to move back to Tennessee. And it's just hard to do in our industry because especially in Tennessee, because at all of the good clubs there's a pecking order. There is usually a guy that's 58 to 60 years old and he says he's retiring in five years. Well, his assistant superintendent is ready in the wings to take over that job. So it's really hard to find a job that you would really want, unless you went for something on the lower end. So I got online, there are some websites that we use for jobs and stuff. One is GCSAA and another one is called TurfNet.
I found Sweetens Cove on TurfNet and it said South Pittsburg, Tennessee. And I said, whoa, hold on, this is the course that I thought was closed. There wasn't much written on it and the job was not paying very well. But going back to what I was saying, my mindset was I want to move back to where my family is and where I grew up.
I'd always wanted to move back. I'd been down in Florida 11 years, so why not? So I sent my resume and I got a call pretty quick. I'm thinking it was like two or three days and Rob called me. We just talked it through and Patrick was on the call as well, I think. I told them my background. I mentioned that I played the old Sequatchie course before in high school and they got a kick out of that.
I told them that I was looking to move back to the area. I had managed mini-verde greens for eight years, so I had good experience in the grasses that they were using. They said to come on up and they would like to meet me. And so I came up from Florida. I think it was around a holiday.
It was in the wintertime, probably around New Year's, I think. So I came out and there's three inches of snow on the ground. We drove through the golf course, it was 9 degrees. Patrick wouldn't even get out of the Volvo. You know Rob's old Volvo, he wouldn't even get out. So Rob and I are walking around out there freezing our asses off and he's trying to show me the course and there's 3 inches of snow on the ground. I can see it though. You know, it's one of those things where I remembered the old course and that was totally wiped clean. There were no remnants of that at all. And I saw these undulations and these slopes that Rob and Tad had created and I could tell it was pretty neat. I didn't know what was underneath it, but I had a good idea of what I could do with it.
We went and ate at Cracker Barrel and they actually offered me a job there. I said I needed to talk to my family about it. I was I was dating a girl in Florida at the time and it was, you know, pretty serious. But you have to go back to your original plan. My plan all along was to get back here. So I did it. I took the job. It was kind of a risk. The pay was way worse, but it worked out and my first time seeing Sweetens Cove was 9 degrees and 3 inches of snow on the ground
Well, you hung in there through some rough times because it's heading into the glory days right now. There are so many people that ask me about the golf course, almost on a daily basis. It's moving up the rankings. Every time I come out and play on the weekend there are just people everywhere now. That must make you feel good to see that.
Oh yes. It does. Well, I'm sure Patrick told you about the early days.
Yes he talked about being out there and having one golfer on the course for an entire day. That's what I want to explore in this book about Sweetens Cove that I'm working on. The whole story to me about the struggle of this great hidden golf course, that nobody really knew about, that Rob wouldn't give up on…. and the miracle that it somehow got to where it is now. I think it's just such a great story.
It is yeah. It really is. Because you don't see a lot of the fairy tale type of things that have happened to us, it's usually the other way around.
True. It usually doesn't turn out this way in life.
I saw what it could be. That's the important part. It hasn't always been easy. You've got get through all that. Our situation in our shop that we work out of isn't the best. I know it's going to get better.
You don't really even have even a bathroom.
And you know the crew has to deal with that. My first mechanic, he was in jail when I got there. Rob is like "Brent, I want you to give him chance. He's a really good guy."
I started with two employees. My first thing I did was I was just spraying weeds, pre-emerge. You know just trying to clean up everything. I've got pictures on my phone of the greens. I mean, it was just Poa everywhere and you know dead spots, winter kills, spring dead spots, but those are things you can maintain with the proper equipment. I had a sprayer and I had two guys. You just start going. It's easy to get overwhelmed when you've got all these things you need to do. You just got to be able to figure out what's most important and just knock it off the list. Every day you've got to figure out the most important part that you need to get done and make sure you knock that off the list. After a while, you finally start turning it into something.
It was really neat to finally get Rob out of that financial burden of just hoping and praying that we can get through every year. It's a huge point to get to where we are, because he can go and do his thing now. For me, it was just a satisfaction of help making it happen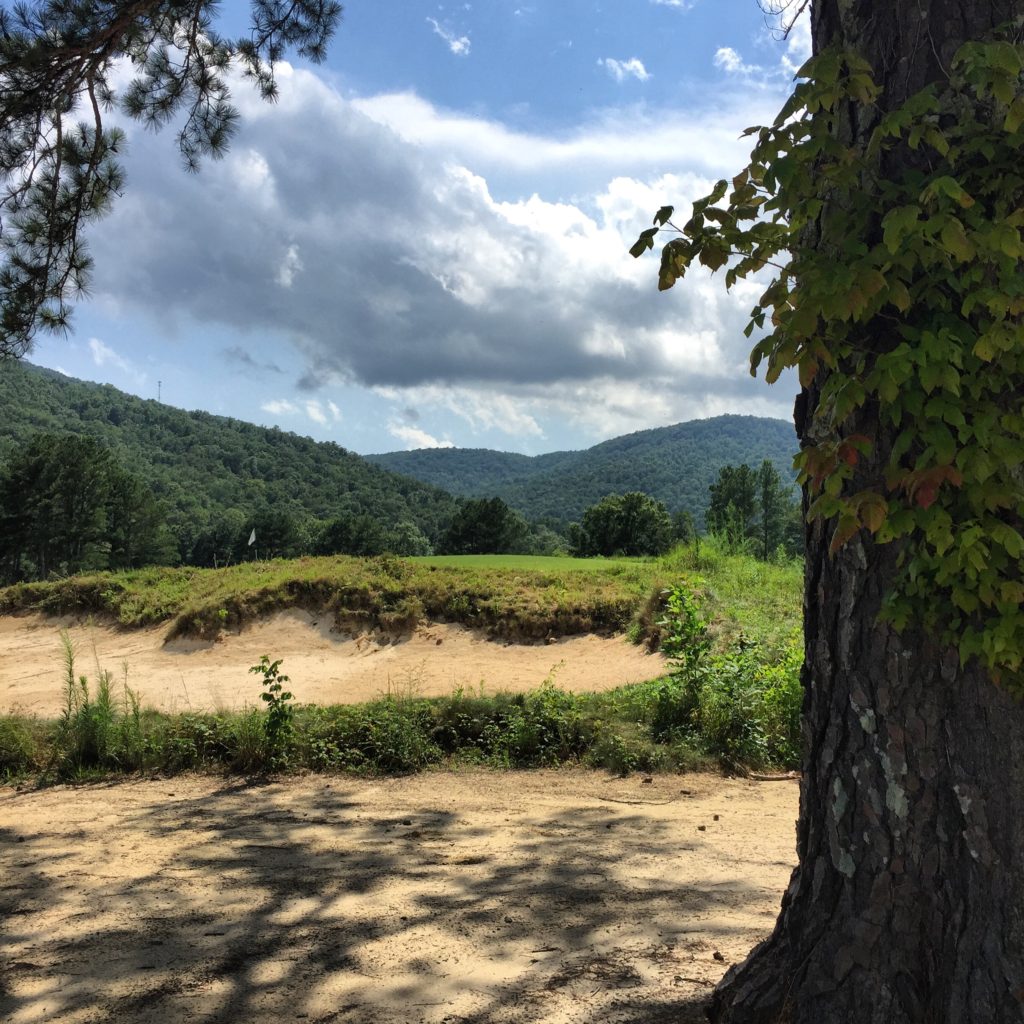 Do you get much contact from other course superintendents? It just seems like there's a lot of interest in Sweetens and the natural aesthetic of the way that the course is maintained, which I think is perfect. A few weeks ago I brought a couple of guys out to play that work on a greens crew and they both kept saying "I wish they'd let us do this kind of stuff at our course." It must be it must be fun to be able to maintain it the way that you do.
Well, yeah they give me freedom. I think a superintendent that understands golf and the playability of a golf course is a lot better off with freedom than a guy that doesn't play golf. He may not understand that if you go out and verti-cut heavy where it affects the greens too much, you can ruin the playability of the course. You've got to know how much you can you can push it. I'll top-dress greens and let that sand dry and then go out and roll it. That's the best way to do it to get the sand just right down in there. They let me put sand on approaches anytime I want to. I'm not going to go at a rate where it's just big thick chunks of sand everywhere. It's going be a thinner layer some where the ball can roll over the top. I do have a lot of freedom. But I think that's just trust that help makes you good. You know they just trust you enough to do your thing. Golfers just have to deal with course maintenance sometimes. I'm never going to go overboard. I'm never going to affect the playability of the golf course to where it's not enjoyable.
I believe you on that.
At a lot of private clubs you've got have all this stuff done when they are closed, or before a golfer steps foot on that that golf course, and that's hard to do. I mean we've barely got enough equipment to get everything mowed, much less stay in front of play every single day doing the stuff that we're trying to do.
Which is understandable. Those guys have bigger budgets, bigger crews. They have larger equipment, just better packages. But you know, there's something to be said for the little guy that that can get it done. I've been on both the ends. I've seen it both ways, you know. This way can come with a lot of high stress because if a piece of equipment goes down, you have got to get it fixed immediately. You figure out ways and you get better at your job actually because you just have to.
Well, I'm excited about everything that is happening. The course is just so good and with this new putting green and all the new grading work coming in, it's going to look incredible. That's going to be a little bit more maintenance work for you to take care of a 12,000 square foot Himalayas putting green.
It's actually going to be a 19,000 square feet. That's Rob for you, man!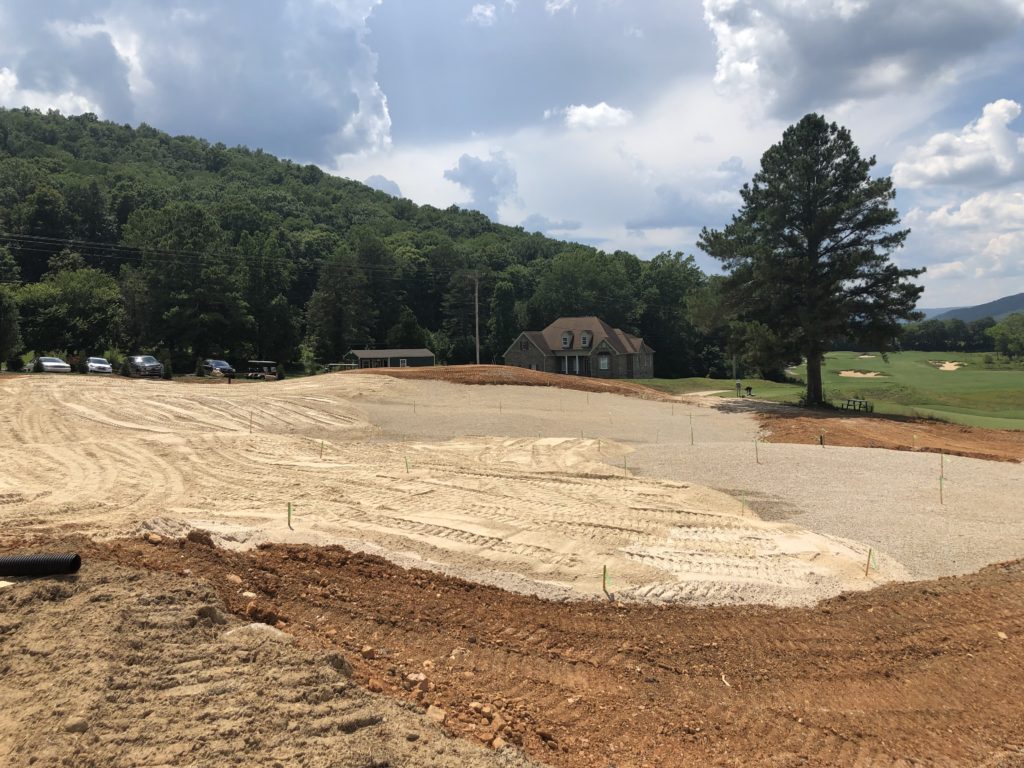 Let's just talk a little about playing the course. A few people don't seem understand Sweetens Cove. They don't understand a course playing fast and hard in the United States. There are obviously different ways to look at golf. I think it's the greatest thing in the world, but I've seen people come out and play the first time and say "what the hell is going on out here?"
Yeah, some guys I grew up with in Dunlap came out and played the first year we had opened. They played 18 holes and I talked to them throughout the round. They hated it and have never been back. I said guys you can't go around this track one time and expect to shoot under par or have a good round. You don't know anything about how to play the course. One of the guys said "I loved it, I made an eagle!" I said "Well, there you go. If you played it two or three more times, you might make a birdie that you didn't expect to make or you might hit a fucking hole in one." There are so many places where the ball funnels back to the hole, but they just they just didn't get it because they weren't used to it. The chipping is the hardest part.
Yes, the chipping is the thing.
Yes, the short game is key. Figure out your best club to chip with. Putt it all the time if you need to. If you can do it, hit the high shot. For me, the lie determines everything. I can do the "one hop checker right into the false front stopping at the hole" but you have to hit that one perfect.
If you don't hit that shot perfectly, it's coming back to you. That's the shot that you hit if you want to get it really close to the hole. But if I'm not feeling confident in the lie, I'll just get my hybrid out and I'll hit up there 10 feet from the hole.
Yes, beginners should putt or hit that hybrid shot. You're going to better off putting most of the time because you know your margin for error is way less. It's all dependent on the lie. When you figure out what shot you're going to hit you have to commit to it. Yeah, that's the hard part for some of those first timers that don't like it and never come back.
Fortunately, those people are in the minority. Thanks for your time, Brent. I'll see you at Sweetens soon.
Yeah. Thanks, Jim.