Chris McBride of Ayr, Scotland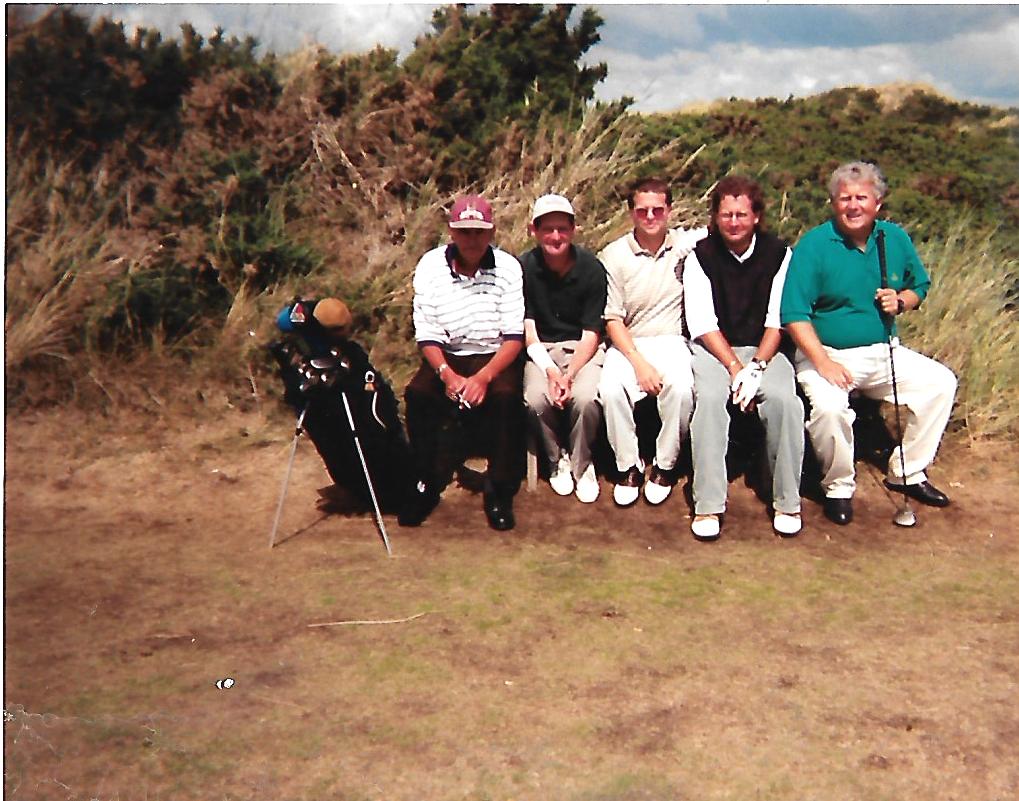 "What's the distance?" Farrell was accustomed to yardage markers, yellow stakes or sprinkler heads.
The caddie looked reflectively at a bunker not far off, and then at the winking red signal light on the train tracks beyond, and finally at a large bird, gull or a crow, winging against the wind beneath the low, tattered, blue-black clouds. "Ah hunnert thirty-eight tae th' edge o' th' green, near a hunnert fifty tae th' pin, where they hav't."
"I can't hit a seven-iron a hundred fifty. I can't hit it even one forty, against this wind."
Yet the caddie's fist, in a fingerless wool glove, did not withdraw the offered club. "Siven's what ye need." – from Farrell's Caddie by John Updike
There have been some great caddies in the history of golf. The long-suffering former caddie of Phil Mickelson, Jim "Bones" Mackay, comes to mind immediately. Even the Phil haters, of which are there are many, (and exceedingly vocal and unrelenting in their disdain) had to be moved by Bones' reaction on the 72nd hole at Muirfield in 2013. His mercurial boss, who he had been completely loyal to for almost 25 years, had just won the greatest championship in the game. Bones was in tears. Who among us cries for their boss when he or she has success at work, based on our assistance?
Mickelson had just played the best back 9 of his career, on a burned out and brilliant golf course, and Bones knew what that meant. To this day, it gets to me when I watch those last few holes and see Bones face as Phil hits impossible shot after impossible shot. I've played Muirfield, and if anybody can get up and down from where Phil did on the 16th that last day, in those conditions, I'll give you $500. I forget exactly what Bones said after that ridiculous pitch, but I am pretty sure it was just "shot." That is the highest praise a caddie can give to a player.
There are many other caddying legends: Tom Watson's Open Championship caddie Alfie Fyles, (We've got him now, sir!) Ray Floyd's longtime caddie Golf Ball and Eddie Lowery, Frances Ouimet's fearless caddie when he captured the 1913 US Open at Brookline over the mighty Harry Vardon and Ted Ray, to name just a few. If you don't think these caddies were a factor in their employers' biggest victory, then we have a differing view of golf. While some caddies are annoying and self-promoting cheerleaders, like Steve Williams with his ridiculous displays during the heyday of Tiger Woods, this is generally the exception. Most of the great ones are old school to a fault. There are still a few younger caddies that understand the value of the old ways and traditions, like Joe Zwickl at Pinehurst. The art is not totally dead, but I fear it is on life support.
I've been fortunate enough to travel quite a lot over the years and play many great golf courses that have caddies – The Old, Muirfield, Ballyneal, Prestwick, Troon, Royal County Down, Ballybunion, Turnberry, Shoal Creek, Carnoustie are a few places that I've been where caddies are available, and even encouraged. Some of the smaller courses in Scotland will find a local kid or member to caddie for you, with enough advance notice. These are often the best caddies you will ever have. I urge you to take a caddie.
Perhaps this is an oversimplification, but in my experience there are two types of caddies: Good and Bad. I've had both. At a round at The Old Course several years ago, I had the Bad. I wanted the full Old Course experience so I paid for a "Senior" caddie. At that time there were a few different caddie "levels" at St. Andrews – Bag Carrier, Jr. Caddie & Sr. Caddie – each with a different price tag. The Senior Caddie that I was assigned , who in deference to the Scots was actually an American, was clueless.
Thinking about it all these years later, it's possible, if not probable, that he was completely intoxicated. Somehow I had managed to play a semi-decent round, despite my American associate not reading a single putt correctly or giving me one good club selection the entire round. The day was a struggle. On The Road Hole, I hit a great drive over the corner of the hotel. I finished up on the far right side of the fairway, with the perfect angle into the green.
I still remember this conversation in the 17th fairway at The Old Course, with the Jigger Inn just to our right, like it was yesterday:
Drunk Caddie: "You've got 160. It's a nice 7."
Me: Are you sure? The wind is helping some from the right. I think I should hit an 8.
Drunk Caddie: No, it's a 7 all day.
Me: Ok.
In my mind's eye, I can still see my perfectly struck Titleist rising in a beautiful arc, as it flew over the green and bounced into the infamous rock wall by Granny Clark's Wynd. I made a double bogey, and was lucky to get that. You might ask why I was still listening to this clearly incompetent, drunk man on the 17th hole of the day. He was a Senior Caddie, at The Home of Golf, and I was about to hit arguably the most famous shot in golf…. so who am I to argue? I've obviously learned some things as I've gotten older.
         That's the Bad side of the equation. Now for the Good….no, Great.  I've written a lot about Prestwick over the years. It is a special place in golf, with the best true old school Scottish caddies still extant on earth. Chris McBride, a caddie of 47 years at Prestwick, is a genius. I do not use that term flippantly. I was lucky to have Chris caddie "to" me on several occasions during my several visits to the historic old course. After two or three holes of our first round together in 1997, he would simply hand me a club and I would hit it. There were no questions asked from that point forward in our association.  He would offer a comment, if he thought it was warranted – 'You might want to land this one a wee bit short on the right hand side, Sir." His assessment was always right. He chose his words economically and with great intent. If he told you a putt was going to break 4 inches left, it broke 4 inches left. He was, and is, a hidden genius of golf, up there with Seve or Bobby Jones in my estimation.
Chris has turned down numerous chances to caddie on the European Tour over the years. He has caddied in the Open Championship, notably for Ken Duke in the 1997 Open at Royal Troon, the first round of which he described as "the worst weather I've ever seen on a golf course." 57 year old Jack Nicklaus shot even par on the back 9 that day at Troon, in the absolute worst of the conditions. Chris and Ken Duke were either in the group ahead or behind the Nicklaus group. He called Nicklaus's last 9 that day "the greatest 9 holes in the history of golf" and I believed him. I also believe that he's caddied at Prestwick his entire life because he loves doing it.
Chris and I played 8 rounds together at Prestwick. All these years later I can still remember so much of what happened in each of them.
My favorite Chris McBride story is one that I've probably told 1000 times, but it never gets old to me. Prestwick is a very hard golf course. It is unbelievably fun, but difficult. You can get it going and play really well or you can shoot 104. It can really go either way. On this particular day I was playing great, on a tough windy afternoon. I was +1 through through 8 holes, which was very good for me. Chris wasn't saying much, which I knew meant that he was proud of how I was playing. I wanted to play well for him. I owed him a good round. I also felt that he truly wanted me to play well. I birdied 9 to get back to even, getting a quiet "well done" from Chris, and we silently made the short walk the 10th. It is a 470 yard uphill par 4 that almost always plays straight into the prevailing wind. It is one of the hardest holes in the world.
Chris silently handed me the driver. I had the honor after my birdie and was enjoying the moment, as anybody would. As I started to line up my tee shot, I stopped and looked at Chris:
Me: Can I reach this green in 2 today?
Chris: Aye, Sir. Aye. You can indeed. It will not be a problem. As long as you hit you hit 3 good shots.
What a genius. Thank God for caddies.