"Time just gets away from us."  – Charles Portis, True Grit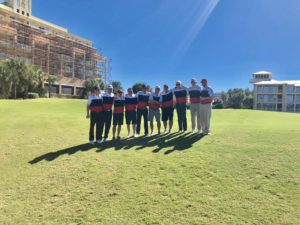 I just returned from an annual golf trip at Kiva Dunes GC in Fort Morgan, Alabama, the excellent course designed by Jerry Pate, right on the Gulf of Mexico. It started in 2003 when 8 of us decided to have a Ryder Cup style match held over 3 days with two 4-man teams. The first day would be Four Ball, the 2nd Day would be 36 holes of Four Ball in the morning and Foursomes in the afternoon. The final day would be Singles. Back then we didn't have a lot of money. The event was facilitated by the fact that one of the guys had a family house right on the golf course, which we were graciously allowed to take over for 3 or 4 days. Of those original 8 Kiva Cup members (as we immediately named the event), 6 still play. Of those 6, 3 have played in every Kiva Cup. The other 3 have only missed once over the years due to unavoidable conflicts. The Kiva Cup quickly expanded to 6 man teams, then to 8 and finally to 10.  Many of the 20 guys playing now have been coming for at least 10 years. We have stayed faithful to the original match play format to this day. We even have our own website: kivacup.blogspot.com.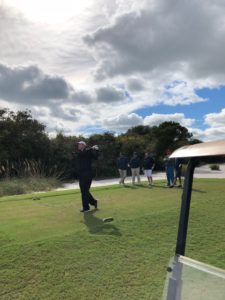 I've had the honor to be the captain of Team USA for 15 of the 16 years, as one year we had a Fake Kiva Cup where we mixed up the 2 teams and had different captains. Many of these guys have become like family to me. A couple of them are actual relatives. My cousin, Chief (aka Chieftain) is one of the original 8. My nephew, Zac, (aka 17) is a former D1 baseball player and has been a staple of Team USA for many years. The nicknames are a cherished Cup tradition: Hawk, Brick, Meels, Collie, Chief, 17, The Doctor, Chappy, Uncle Joe, Boog, JROD, Donnie, Boogie, Skibo Castle. Some of the Four Ball and Foursome pairings even have their own nicknames, The Robot Factory (or simply The Factory), for example, is how Brick (Handicap 5) and Luke (Handicap 8) together are known. This is due to their almost robotic ability to hit 14/14 fairways and 18/18 greens and rarely lose a match. The Kiva Cup is played with full GHIN handicaps, which theoretically allows double digit handicap players like me to compete. Theory is often not the reality of practice. My record as captain of Team USA is a futile 3-10-2.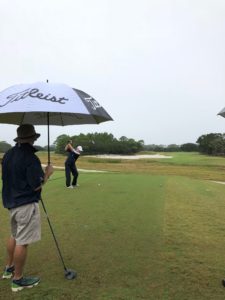 In the last 3 or 4 Kiva Cups, I've found that I've become increasingly reflective on Saturday after the Singles matches are finished. I prepare our traditional gumbo and shrimp boil for the last night of the Cup. I'm the oldest member of the group and I've played every Kiva Cup. This year, I became especially reflective while I was alone for a few hours cooking (later joined by Chieftain) when all the other guys decided to play an emergency 9 hole scramble. Over the last few years, some of my closest friends have moved very far away and I only see them once a year now at this event. I started thinking about all the golf trips I took with my Dad to the UK, and his group that got together much like we do every year. Most of them are gone now. They were great guys. I thought about the fact that my 3 sweet boys have grown up, and 2 of them have moved out now, over the 16 years of the Kiva Cup. I thought about the fact that I might not see 2 or 3 of my best friends in the world for another year. I thought about the holes at Kiva Dunes playing a little longer for me than they have in the past. Enjoy playing golf and spending time with your friends and family as much as you can. Time just gets away from us.