A Thirty Year Quest for Discovery in The Birthplace of Golf
By Jim Hartsell
A dream in a mist of grey,
On a far distant shore.
– Opal*, Syd Barrett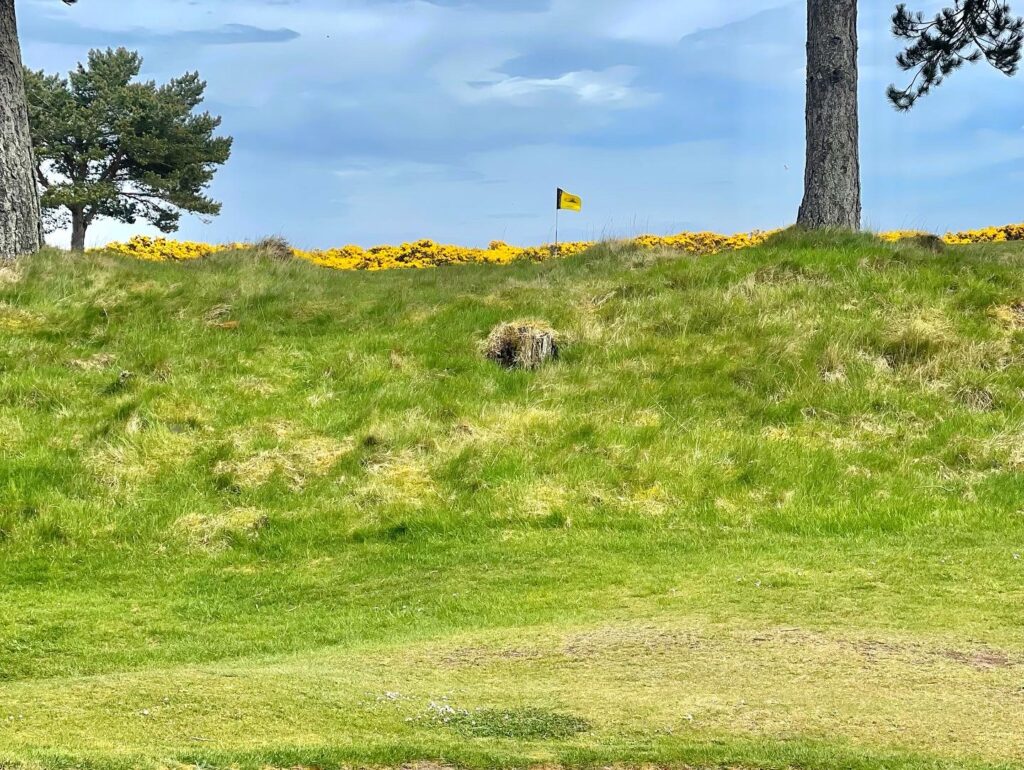 Having just finished a wonderful round at Golspie with 3 lifelong members – including one who, as I learned on the 7th tee, is a well-known BBC actor – I was sitting in the garden of the Golspie Inn reflecting on the day. Alasdair MacDougall of Inverness, the club treasurer, had graciously arranged the game so I could learn more of the history of his great course. The next morning, I hoped to be first off the tee at nearby Brora. This meant I would be finished playing by 11:30 at the latest. The remainder of the day had been purposefully left unplanned.
A great, old friend of mine in the US loves fly fishing. I wanted to bring him some local flies back from the various areas of Scotland. This search was sort of a minor subplot to my trip and, if I'm being honest, was almost as much fun as the golf. I messaged Alasdair to ask if there were any good fly-fishing shops in the area. He responded almost immediately:
"Aye, I think there is a wee shop just up the road in Helmsdale that might suit you."
Helmsdale, which I had once driven quickly past on a trip to Durness and Reay, was an almost surrealistic twenty-minute drive north on the A9. The blinding hillsides of yellow gorse and fields of golden rapeseed gave way to impossibly blue vistas of the Moray Firth. One of the major challenges of driving in Scotland is to not let yourself be distracted by the natural beauty. It can be almost overwhelming at times.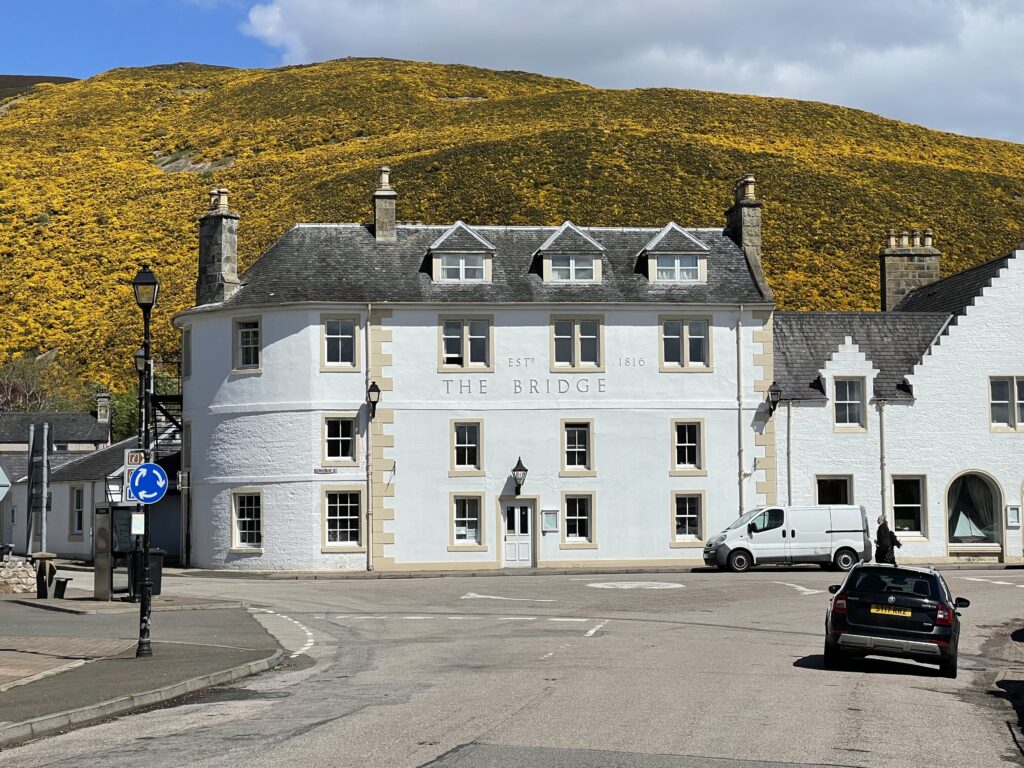 The small village sits next to the River Helmsdale, one of the most renowned salmon fishing rivers in the world, and in between the surrounding mountains and the sea. It is like something out of your most vivid dreams of Scotland. You could almost reach out and touch the gorse covered hillsides towering over the town. It was around noon when I walked into a small café called Thyme & Plaice on the town's perfect main street to order some lunch.  It was still a bit early, so I had the place to myself. The chef and the café owner were more than happy to talk about the area with their lone customer. They knew Alasdair, of course, and we had a long discussion about Golspie Golf Club.
After a nice lunch, finished with the best cappuccino of the entire trip, I asked the friendly owner if she knew of a fly fishing shop in town. She smiled and said,
"Yes, I do. Just look out our window straight across the street. Yvonne has a lovely wee shop called Glencoast. She will sort you out."
Thanking my hosts in the café for their kindness, I walked across the street to search for fly fishing lures. I told Yvonne what I was looking for. She was brilliant and helped me select several local brightly colored flies and carefully placed them in a small box that I knew my friend would love.
"I'm not a fly fisherman. I just play golf, "I told her. "I am cursed to do both," she said with a laugh.
As I was walking out the door, she said, "Stop at the bridge and take a wee photo of the flies with the river in the background to send to your friend." I took her advice.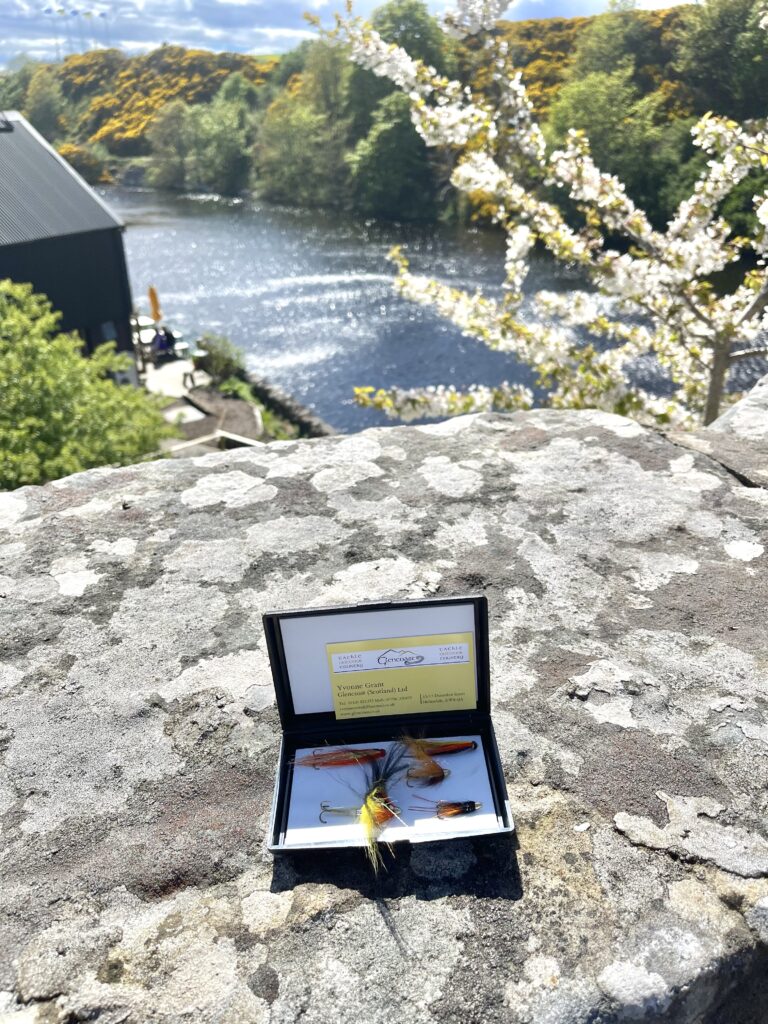 Thinking I would just drive back to the Golspie clubhouse and take in the late afternoon views of the links, I started out of town over the old river bridge when I remembered that I had passed a sign for "Golf Road" earlier. I could not resist the urge to see what was there, so I headed back towards town and turned left when I saw a small sign for Helmsdale Golf Club. The narrow road followed the river for about a mile or so through the glen when suddenly I came upon the course – in front of me like a Harry Rountree watercolor painting. It took about two seconds for me to decide I had to play.
Both the small car park and the tidy, wee clubhouse were empty. I saw an honesty box by the door. Grabbing a half set of hickory clubs out of the back seat of my rental car, I walked out into yet another undiscovered wonderland of Scottish golf. Hole after hole at Helmsdale was laugh-out-loud good. There were benches located on many of the nine teeing grounds, so I took my time and enjoyed the being alone in this stunning glen on a clear blue day. The hillsides of vibrant gorse screamed the eternal promise of spring. In thirty years of visiting this ancient and exceptional country, I am not sure I have experienced a scene quite like it. After holing out for par on the brilliant downhill 9th, with the green situated right by the clubhouse and the 1st tee, I left a note of thanks in the honesty box to go with my modest green fee.
           I left Golspie early the next morning after an evening visit in the garden with a nice young gentleman called Ned Wright, a huge fan of No Laying Up who had read some of my previous writing on Scottish golf. We were kindred spirits in many ways, and he seemed transfixed by my description of Helmsdale Golf Club. He vowed to play it soon. I drove on to Lochgilphead, with a stop on the way at James Braid's Boat of Garten, to meet my good friend Robbie Wilson. We had planned for several months to visit Iona, Askernish and Isle of Harris together, if we could solve the intricate puzzle of the Calmac ferries.
The holy island of Iona is special place. The golf course, maintained largely by sheep, is everything that I love about Scottish golf. I will write more about Iona in the epilogue of my new book – When Revelation Comes. For now, I just want to briefly mention our visit to Askernish Golf Club – the legendary lost golf course of Old Tom Morris that was rediscovered in the 1990's through the efforts of many great people. I had dreamed of visiting Askernish for many years, as had Robbie. It takes a concerted, but not impossible, effort to get there. Every minute of the journey is worth it. Askernish exceeded even my lofty expectations.
We were to play at 9 am on a cold, windy, rainy day with the current club captain, a man called Colin Russell. Colin arrived dutifully at 8:40 and introduced himself. I quickly told him that he should not feel obligated to go out with us in such questionable weather. His response was straight to the point:
"No bother, Jim. You are both here and we're playing. If I waited for perfect weather to play golf, I'd never play at all."
I will save my detailed thoughts on this holy outpost of golf for a future story in The Links Diary. Colin was the perfect host for two golf pilgrims. It was a near mystical experience – a dream in a mist of grey, on a far distant shore.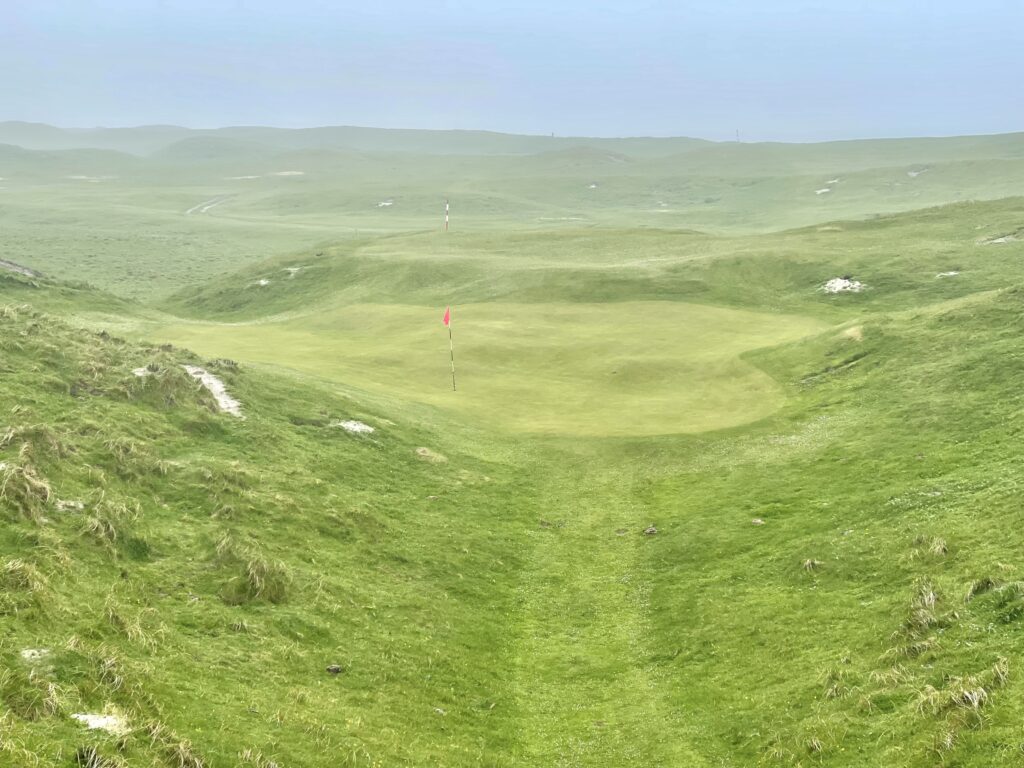 Even though the game of golf itself proceeds with a determined and expected haste, Scotland is not a country to rush around. If you are patient and can allow a small amount of time for things to develop naturally, this beautiful place will never fail to exceed even your wildest dreams.
*Syd Barrett experts do not come at me. The original LP mistakenly listed the song title as "Opel."