I must be sorry for those who have never been fond of games, even though I half envy their resourcefulness in doing without them. They have missed, though, to be sure, they do now know it, so much friendly if sometimes agonizing pleasure, so many days in the sun.
– Bernard Darwin, from Life is Sweet Brother, 1940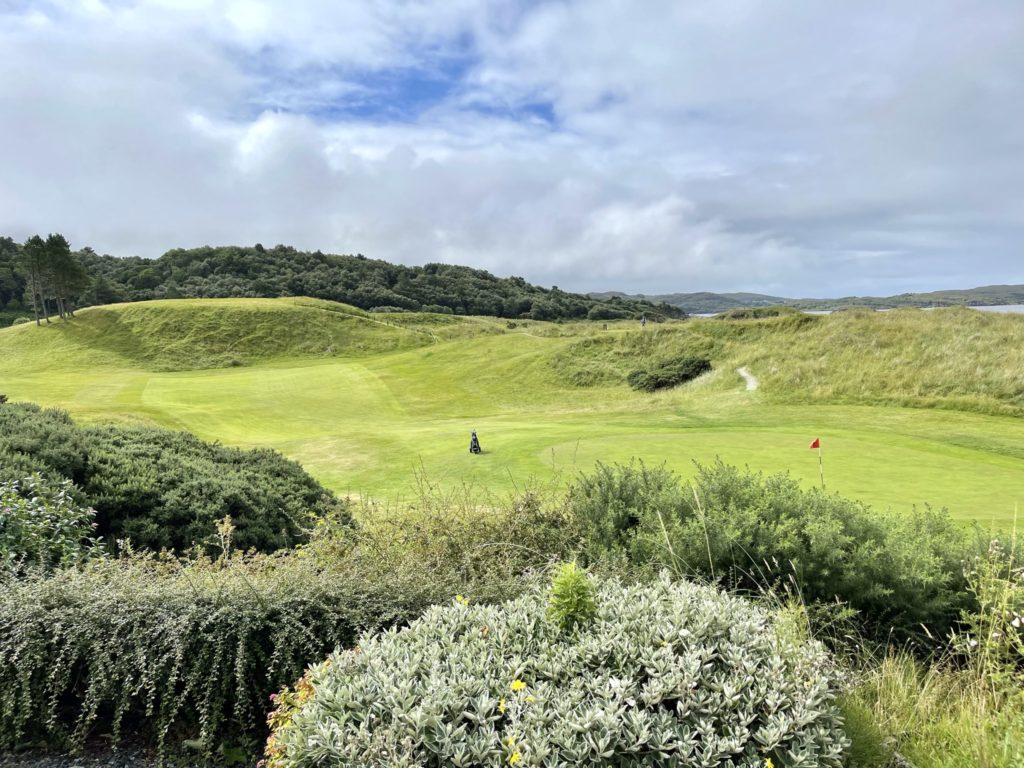 This morning on Twitter, my good friend Kevin Moore of Athens, Georgia posed a simple question: "Why do you love golf? " I thought of several quick and humorous responses, but the question seemed a bit more serious and deserving of more than a 280 character answer. There are many reasons that I love golf – a game I have now played for almost 50 years.
Our minds work in unusual ways. For some reason, the first thing that I thought of when I saw Dr. Moore's question was a long-ago April afternoon in Starkville, Mississippi. On a perfect spring day – the kind that you can only have in April in the South- one of my high school golf teammates and I watched the final round of the 1986 Masters on a tiny television in our (equally tiny) Freshman dorm room. There is no reason to recount the miraculous back nine that the greatest golfer of all time played that day. I have watched it so many times over the years – I know every club and distance, as well as the comments made by the great Ben Wright and others.  We watched the battle between Jack, Seve and Norman unfold in almost religious silence. When Jack birdied 17, I felt tears start to form – unusual, I suppose, for an eighteen-year-old college freshman.
After Norman blocked his approach to 18 and Jack's victory was assured, I said to my friend, "We have to go play." We grabbed our clubs and drove as fast as we could out to the old MSU university course on the outside of town. We had maybe ninety minutes of daylight left when we got to the tee. I don't really recall much of those nine holes, but I do remember we both made short par putts on the last – in the dark – to shoot even par 36. I remember shaking Jay's hand and walking to our car. It was the only car left in the parking lot. We drifted apart the next year when he joined a fraternity – and rarely even saw each other the next three years at MSU – but that afternoon is one of the reasons I love this game. Golf gives you memories to last a lifetime.
I love golf because it is a way to spend time with your family. I can still remember the excitement I felt as a nine or ten year old when I knew I was going to play golf with my Dad – most likely at Roebuck, our local municipal course in Birmingham. On exceedingly rare occasions, we would be invited to play somewhere like Birmingham Country Club or the Mountain Brook Club. The anticipation leading up to those days was more than half the fun – I would clean my clubs with a toothbrush. Those places were like cathedrals to me. I still remember being in awe of how perfect the fairways and greens were – and there were real bunkers! But most of all it was just being with my Dad and seeing how much he loved being on the golf course.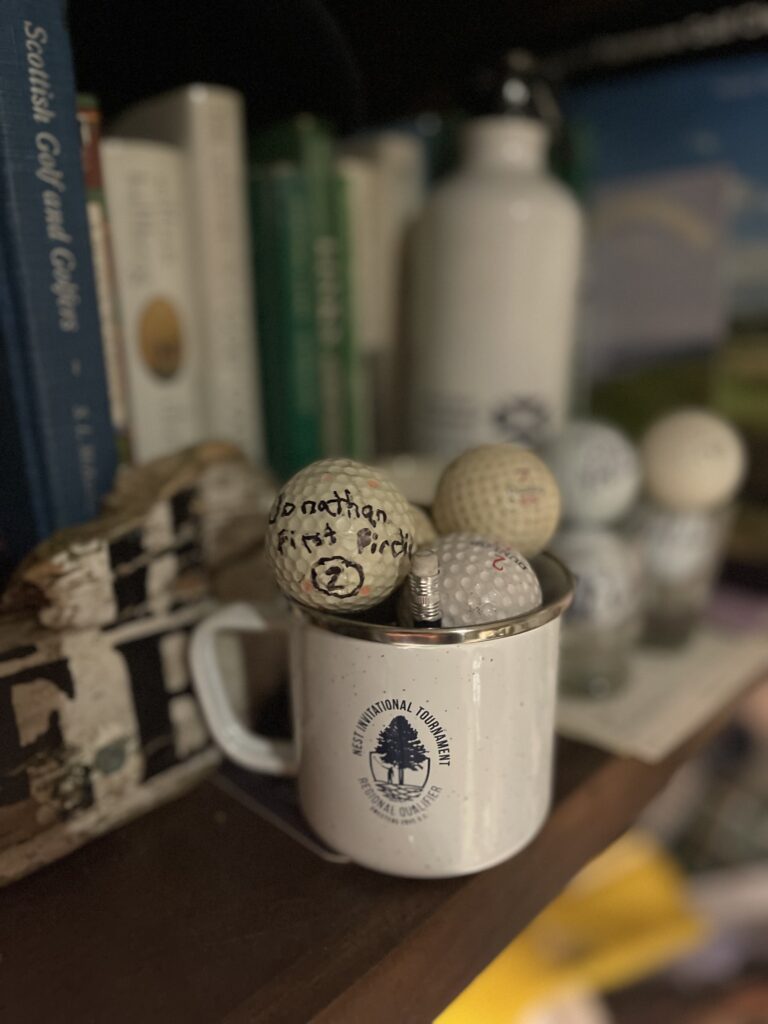 I tried hard to pass the love of the game on to my three boys. The time I have spent on the course with them is some of the most precious experiences of my life. On the shelf in my office, right next to golf balls from places all over Scotland, I have an old Titleist from Jonathan's first birdie when he was seven years old. I still remember how happy he was when he made that putt. You would have thought we both won the lottery. I played most of my golf with them for a long time. My middle son Jake was able to tour my beloved Scotland with me in 2019. When my youngest son Jordan asked me if it was ok to for him to quit playing baseball and basketball so he could just focus on golf, I could not have been any happier and prouder. He went on to become a great junior player and I spent more than eight years following him in tournaments around the South. Watching your son hit a 330-yard drive right down the middle of the fairway is a thrill that only a parent would understand. My sweet Jordan died last May. We had golf clubs put on his grave marker. Golf often becomes a key part of the bond that holds families and friends together.
I love golf because of the natural beauty of the courses. If you aren't moved when you see an impossibly colorful sunset in October at Sweetens Cove, then we look at the game much differently. I have been fortunate to be able to visit Scotland multiple times over the years, which I maintain is the most beautiful country in the world. Unlike America, where the best property and ocean views are given to wealthy homeowners, in Scotland we are fortunate that golf courses are often afforded these prime locations. Walking these courses – places like Dunaverty, Gairloch, Machrihanish, Reay, Brora, Golspie, Durness – can be a near religious experience. Golf is a way to enjoy the rare beauty of the world, often in the company of friends. What could be better than that?
I love golf because of the literary tradition of writing that is associated with the game. The first golf book I was ever given at age ten, Bobby Jones on Golf, is still on my shelf. I have spent a lifetime reading and studying writers such as Bernard Darwin, Pat Ward-Thomas, Herbert Warren Wind, James Finegan and Michael Bamberger. My entire office is filled with golf books I have collected for most of my life. This love of the literary side of golf inspired me to start writing several years ago. My first book, The Secret Home of Golf, came out last year. I have had stories published in The Links Diary and The Golfers Journal. I have an ongoing series on Scotland for No Laying Up. My second book – When Revelation Comes, a story about Scotland and unthinkable loss – is coming out next fall. Golf has given me the opportunity to write – something I have wanted to do since I was in high school. I love that the game celebrates its' history and inspires literature.
Most importantly, I love golf because of the people. You meet the best people through golf. As I wrote in The Secret Home of Golf, I first met Kevin Moore on the steps of The Shed at Sweetens Cove – we went out and played the 5th hole in the morning mist – and have been friends ever since. A few months ago, Robbie Wilson invited me to stay at his house in Lochgilphead, Scotland when I was looking for a way to try to survive Jordan's death. We played links courses all over his wonderful country. We played together at my favorite course several times. He has become one of my best friends because of golf. I met my friend Rob Collins and wrote a book about his struggle to create Sweetens, all due to golf. For almost twenty years, I played in a Ryder Cup style match every fall – at Kiva Dunes GC on the Alabama coast – with the same group of guys. Some of them are still like family to me. There are so many good people that the game has brought into my life. If you think back on all the people you have met through the years because of golf, I am certain the percentage of those you do not like is very small.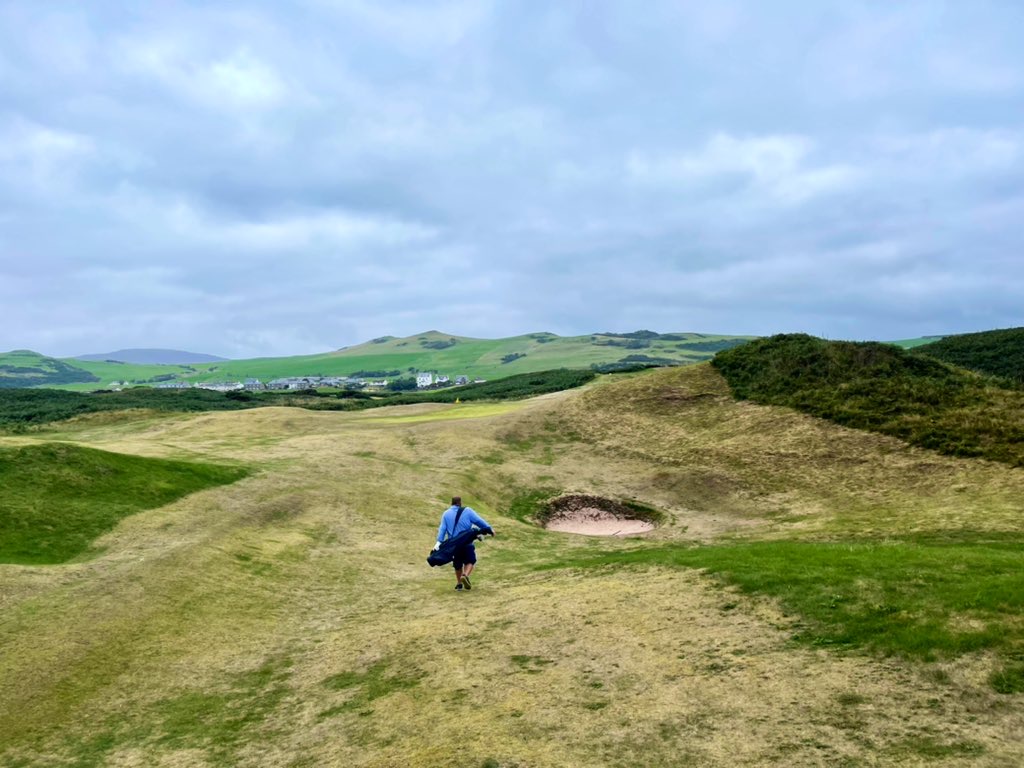 I am still discovering, at my advanced age, all the reasons that I love golf. I have a story coming out in Golfers Journal No. 20 in May that will elaborate greatly on many of these feelings. When Revelation Comes, which I am working on now, will expand these thoughts even further. Golf has given me an outlet – because of the people I have met – to try to cope with and survive an unthinkable tragedy. I cannot think of any other game or sport that could do that. This is also a reason that I love golf.